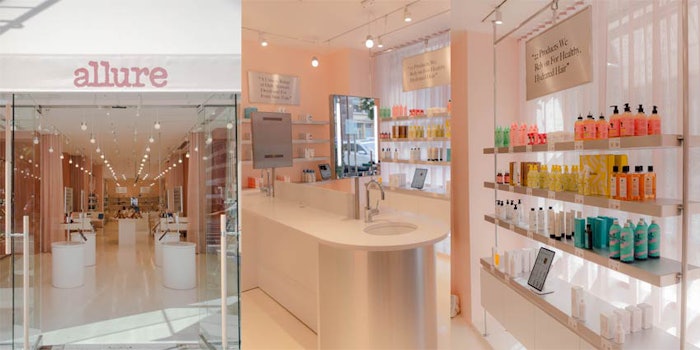 Allure Store, from the eponymous publishing brand, is opening today, July 1, 2021, in Lower Manhattan at 191 Lafayette Street. The space, a collaboration between Condé Nast and the Stour Group, will offer a live experience of the brand's editorial expertise. The move builds on the brand's motto as "The Beauty Expert."

The store features more than 270 makeup, hair care and skin care products from more than 170 brands, "which have been handpicked by the brand's very own beauty experts and have been previously featured in Allure," according to the company.
The assortment will mimic themes from Allure's Best of Beauty Awards and include seasonal product changes.
Update (July 6, 2021):Global Cosmetic Industry reached out to Caleb Foltermann, general manager at Sexy Hair/Henkel Professional, one of the participating brands, to get the brand perspective.
"Many of the products to be featured in the Allure store are previous Allure award winners," says Foltermann. "A professional 'best of the best' assortment that our brands, like SexyHair, have been built on over the years and continue to be consumer and stylist favorites. Any salon assortment without these A-List and headliner products would just feel empty."
He adds, "The remaining assortment is focused on innovation: new technologies, new key ingredients, and exciting new product stories. Our consumers, salons and the Allure experts all see a plethora of new market entries but the Allure selections are where the real excitement is coming from."
We asked Foltermann why this type of store experience is helpful in engaging with consumers.
He replied, "To me, the Allure store experience is like a Tesla Showroom. Visitors can see, touch, smell, and feel the products in an experiential, tactile way without feeling like they need to fill their cart and head to the checkout line. The goal is product exploration through the customized digital experience, something that is unique with the Allure concept store."
The shop will feature AR try-ons, QR codes for multimedia content and product information, and smart mirrors to sample looks.
Allure's editorial team will host in-store events, tutorials and masterclasses.
Allure Store is open 11 a.m.-7 p.m. every day and has an online counterpart at www.allure.shop.
"We are so excited to open the doors to the Allure Store and welcome people who are already part of our audience and those who may be meeting Allure for the first time," said Michelle Lee, Allure editor in chief. "This space provides an extraordinary opportunity to highlight Allure's favorite brands, and gives shoppers the chance to experience our editors' picks, including the Best of Beauty Award winners, all in one place."
"As consumers begin to return to in-store shopping, innovation is critical for brands to cut through the noise," said Markus Grindel, managing director, global brand licensing, Condé Nast. "Allure Store is reimagining retail with an entirely new approach to beauty, combining its trusted editorial voice and unparalleled expertise to create a first of its kind, 360-degree immersive shopping experience. The store illustrates how much we can flex our powerful brands by extending Allure's iconic IP into a physical retail space."