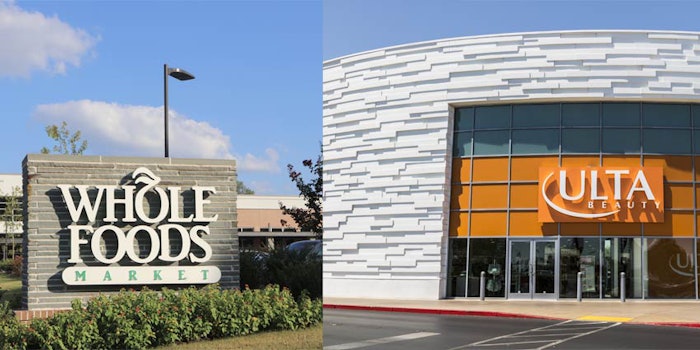 Beauty brands face more competition than ever, and beauty retailers are considering a growing array of concerns when selecting brand partners, including sustainability of packaging, clean formulas and brand distinctiveness.
In "Beauty Retail 101," an upcoming free webinar, retail experts from Whole Foods Markets, Ulta Beauty and Credo Beauty will offer their advice to brands, including:
Best practices for brands approaching a buyer/retailer
Trends shaping the types of brands retailers are looking for
Common mistakes brands make regarding retail
Best practices that can maximize chances of success at retail
The session will conclude with a live Q&A, allowing attendees to pose their questions to our experts. Registration is free.
Our experts are:
Amy Jargo, lead merchandising for facial and hair care and cosmetics, Whole Foods Markets: Jargo and the beauty team work closely to bring in high-quality products that meet Whole Foods Market's beauty and body care standards that go beyond typical "clean beauty claims." Jargo has been in the beauty industry for eight years, specializing in clean beauty and wellness. Prior to Whole Foods Market she spent eight years at Target Corporation where she was most recently a senior buyer in beauty and held other roles in merchandising and human resources. Jargo is personally passionate about clean and sustainable beauty and helping indie brands learn and grow. She holds a BBA in Marketing from The University of Iowa.
Annie Jackson, co-founder and COO, Credo Beauty: Jackson has been a key player in the successes of the industry's biggest beauty companies. She began her career at Estee Lauder, where after six years she was recruited to be one of the early members of the team that launched Sephora USA and Japan. Later, she took a role as the director of global product marketing for Benefit Cosmetics and, in 2011, returned to her Sephora roots in merchandising for color cosmetics at Sephora within JCPenney. Her love of beauty and quest for cleaner options led her, alongside Shashi Batra, to create Credo Beauty. As co-founders, they shared a vision to change the way people think about what they put in and on their bodies and skin, fostering a new generation of beauty brands—natural, organic, effective, clean and sustainable—to and pioneering the clean beauty movement.
Muffy Clince, director of emerging brands, Ulta Beauty: Clince is responsible for the Sparked at Ulta Beauty platform that launched in 2019.This cross-functional endeavor was created to scout, on-board, launch and grow new-to-market indie brands. In addition to the emerging brands work, Clince overseas the merchandising efforts supporting Conscious Beauty at Ulta Beauty and Ulta's Credo partnership. Prior to taking on this role, over her 17 years at Ulta Beauty, Clince has held several roles in merchandising, planning and inventory, most recently managing key brand relationships for prestige cosmetics and launching Chanel Beaute. In her time at Ulta Beauty, Clince has supported the Ulta Beauty Charitable Foundation work, helping to raise funds for the Breast Cancer Research Fund. She is an alumna of the University of Illinois at Urbana-Champaign, meeting her husband freshman year; they now enjoy family time with their three kids.