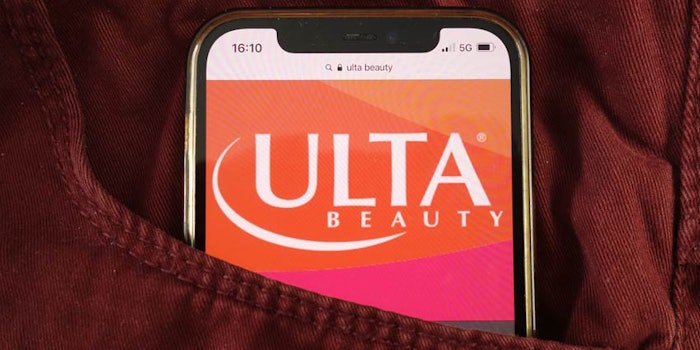 Ulta Beauty, Inc. has announced a range of initiatives to support its 2022-2024 financial targets, including services such as same-day delivery in select locations. In that period, the company seeks to achieve total net sales growth of 5-7% and to add 50 stores per year. The company's operating profit target for the period is 13-14%.
To meet these goals, Ulta is unveiling "Beauty to Go," a program that ensures that buy online, pick-up in store orders are ready for pick-up in two hours or less. The retailer will also boost its supply chain with an enhanced physical network and technology capabilities.
EVENT ALERT: Ulta Beauty Discusses Conscious Beauty with Credo Beauty
On the technology front, the retailer is partnering with Google to embed Ulta Beauty's GlamLab Virtual try-on tool for lipstick and eyeshadow within Google's Search and YouTube platforms.
It is also leveraging Adeptmind's AI retail technology to personalize the consumer shopping experience.
To expand tech collaborations, Ulta is launching a $20-million Digital Innovation Fund "to enable the company to closely partner with innovators, entrepreneurs, early-stage investors, and other agents of change to transform the future of beauty, retail, and commerce."
Meanwhile, Ulta's UB Media business model will use its first-party data to help brands better connect with shoppers. The retailer will also introduce a "creator and content ecosystem."
Finally, the company has set a multi-year cost savings target of $150 million to $200 million to fund growth initiatives.
"Reflecting our understanding about how the consumer and beauty category are evolving, we have refreshed our strategic framework, and we are excited to share our vision for Ulta Beauty's future," said Dave Kimbell, chief executive officer. "We have a long record of disruption, creativity and success, and we intend to build on this foundation and continue to lead the beauty category, seamlessly connecting physical and digital channels, expanding our market share, and increasing member loyalty. We are optimistic about the opportunities ahead and believe the power of the beauty category, paired with our proven business model, experienced leadership team, and values-based culture, positions Ulta Beauty to continue to deliver long-term value for shareholders."