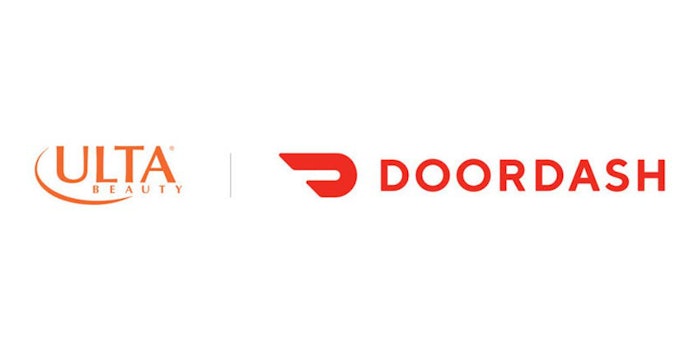 DoorDash and Ulta Beauty have teamed up for same-day delivery from select Ulta Beauty stores in Atlanta, Boston, Chicago, Los Angeles, Houston and Boise, with plans to expand and roll out more broadly in 2022.
Available only through DoorDash Drive (not Ulta's app), DoorDash's fulfillment platform offers same-day delivery for Ulta Beauty's assortment of more than 25,000 beauty products across cosmetics, skin care, hair care, fragrances and more.
Previously: Ulta's Digital Makeover
Users visit ulta.com, fill their cart, check local store availability and, if appropriate, select the same-day delivery option at checkout.
"We see consumers looking for faster and more convenient ways to get their favorite brands delivered same-day," said Shanna Prevé, vice president of strategic partnerships and business development at DoorDash. "We are thrilled to partner with Ulta Beauty to power their same-day delivery experience and bring the magic of in-store shopping home for customers, during the holiday season and throughout the year."
"As we enter our busiest time of year, Ulta Beauty could not be more thrilled about our partnership with DoorDash to conveniently deliver the joy of beauty," said Prama Bhatt, chief digital officer, Ulta Beauty. "We take pride in being leaders that continually deliver personal, fun and seamless omnichannel experiences. This partnership represents two leaders coming together to create a new touchpoint for our guests that importantly connects our physical and digital experiences in a relevant, new way."