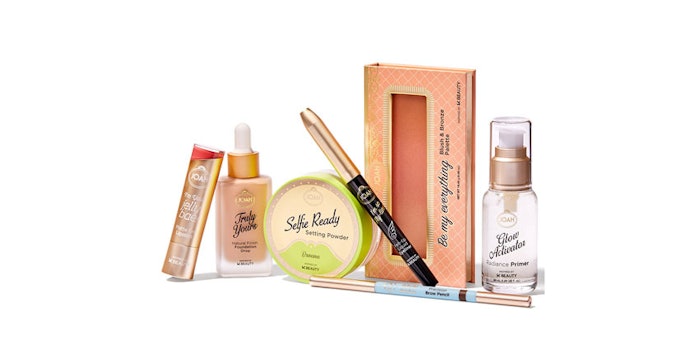 CVS shoppers can now partake in one of the biggest beauty trends of the moment, K-Beauty, thanks to the recent launch of Joah. The new K-Beauty inspired line is available exclusively at CVS.com and in an estimated 4,000 CVS locations nationwide. 
The Joah line includes 158 products, ranging from the lip, eye, brow, face and cosmetic brush segments, with prices ranging from $2.99 to $15.99.
Products include:
6 shades each of lip glosses ("Mirror, Mirror");
Tinted lip balms ("La Bam Balm);
Lip stains ("Tintation");
Lip liners ("Lip Candy"); 
40 shades of lipsticks in multiple formulations ("Wat-a-Matte," "I'm Your Jelly Bae," "Infinite Kiss" and "Smack-a-ron");
4 unique liquid eyeliners ("I'm So Fly");
6 shades of the gel eyeliner ("Make Her Gel-Ous") and auto eyeliner ("Eye Candy");
4 mascara formulations ("Eye Scream");
2 eyeshadow palettes ("Birthday Suit");
5 brow products available in multiple shades—an auto brow pencil, precision brow pencil, brow pencil & gel combo, wooden brow pencil and clear top coat;
11 concealers;
4 BB creams;
8 liquid foundations ("Truly Yours");
3 cushion foundations ("Angel Food");
2 primers;
3 setting powders;
2 setting sprays ("Selfie Ready");
1 highlighter;
1 blush & bronzer;
1 cream and 1 powder contour palette ("Be My Everything");
2 peel-off face masks;
1 wash-off face mask ("Skin Polish"); 
Makeup wipes; and
Lip and eye makeup removers ("I Wipe-Tini").
"For Joah, the K-beauty philosophy is our inspiration," says Annette DeVita-Goldstein, SVP global marketing at KISS Products, Inc. "We wanted to bring the caliber of innovation and state-of-the-art formulations that Korean beauty skincare is known for to the world of color cosmetics. These phenomenal products are fun and easy to use, while delivering great color payoff, sophisticated finishes and effects. We are thrilled to partner with CVS, the ideal K-beauty destination, to introduce Joah to our consumers."
"We're excited to exclusively launch Joah, a brand that mirrors CVS Pharmacy's belief in having fun with beauty," says Andrea Harrison, senior director, divisional merchandising manager – Beauty at CVS Pharmacy. "We continue to find new ways to expand upon our current beauty offerings, particularly when it comes to K-beauty inspired brands like Joah that encourage playful exploration through cosmetics."