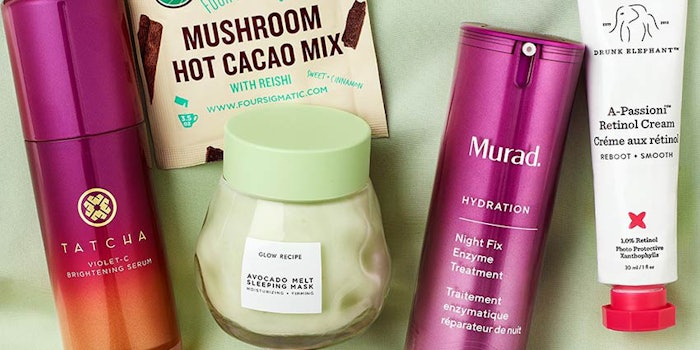 Sephora is slated open 35 new brick-and-mortar locations around the U.S. in 2019, beginning with the March 14 opening of its Hudson Yards location in New York City.
Along with 13,000 products from 200 brands, the new locations will offer beauty services such as complimentary makeup mini makeovers at the Beauty and Skin Care studios; private, 60-minute Makeup Deluxe sessions with expert artists; PERK Hydrating Facials; beauty classes; and digital tools such as Skincare, Color and Fragrance IQ, matching clients to products, and digital guides.
Further Reading: Sephora Expands Its Reimagining of Brick-and-Mortar
Also on the horizon for Sephora in 2019: beauty advisor uniforms re-designed by Nellie Partow (debuting at Hudson Yard), and a partnership with luxury treatment center OrangeTwist at three California locations, which will offer its menu of non-invasive body, face and skin treatments at an adjacent location connected to Sephora stores in San Diego and Los Angeles
"At Sephora, we are constantly working to further enhance, personalize and simplify the omnichannel experience for our clients, so the connection between the physical and digital is virtually seamless and highly customized at every touchpoint," said Mary Beth Laughton, executive vice president of omni retail.
She continued: "Clients can browse our beauty offering online or using our Sephora app, use our digital 'Happening at Sephora' tool to discover what's happening in store like events, classes and services to plan their trip to their local store and even try on looks digitally with Sephora Virtual Assistant. We are thrilled to be opening in even more communities this year, bringing the best of prestige beauty, including our passionate beauty advisors, to more clients across the U.S., in real life."
The 35 new locations opening this year include:               
• Hudson Yards – New York City
• Atherton Mill – Charlotte, North Carolina
• Sawgrass Mills – Sunrise, Florida
• 14th Street DC – Washington, D.C.
• West Village – Dallas
• Aliso Village – Los Angeles
• Palm Springs – Palm Springs, California
• Green Valley Ranch – Henderson, Nevada
• Highland Village – Houston
• Pinecrest – Orange Village, Ohio
• Bishop Ranch – San Ramon, California
• Oceanside – Long Island, New York
• Laurel Village – San Francisco
• American Dream – East Rutherford, New Jersey
• Redlands – Redlands, California
• Waterside Shops – North Naples, Florida
• One Paseo – San Diego
• Belmar – Lakewood, Colorado 
• Seaport – Boston
• Rochester Hills – Rochester Hills, Michigan
• Ontario Mills – Ontario, California
• Alexandria – Alexandria, Virginia
• Irvine Spectrum – Irvine, California
• Long Beach – Los Angeles
• Streets of Tanasbourne – Hillsboro, Oregon
• River Market – Fort Lauderdale, Florida
• Lake Success – Lake Success, New York
• Dana Park – Mesa, Arizona
• Atlantic Terminal – Brooklyn, New York
• Arboretum SC – Arboretum, South Carolina
• Connecticut Ave – Washington, D.C.
• Davie – Davie, Florida
• 2020 Westlake – Seattle
• Shrewsbury – Monmouth County, New Jersey 
• SoNo Collection – Norwalk, Connecticut