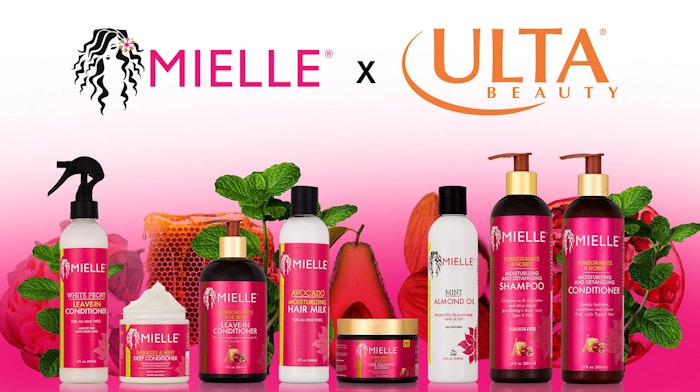 Mielle Organics is now available at Ulta Beauty and Ulta.com.
Ulta Beauty will offer eight Mielle Organics bestsellers from the brand's Essentials Collection and the Pomegranate & Honey Collection, ranging from $12.99 to $14.99.
The Essentials Collection will include the Babassu Oil & Mint Deep Conditioner, Avocado Moisturizing Hair Milk, White Peony Leave In Conditioner and the Mint Almond Oil.
The Pomegranate & Honey Collection's Moisturizing and Detangling Shampoo, Moisturizing and Detangling Conditioner, Leave in Conditioner and Coil Sculpting Custard will be available at Ulta.
Monique Rodriguez, founder and CEO of Mielle, said, "We are so excited to offer Mielle Organics to Ulta Beauty's guests across the country. This launch is the culmination of nearly eight years of building this brand with a focus on innovation and ingredients that offer solutions for textured hair. Ulta Beauty is a premiere destination for beauty lovers, and now Mielle Organics has arrived."
Jessica Phillips, vice president of merchandising at Ulta Beauty, said, "We're delighted to welcome Mielle Organics to the Ulta Beauty hair care assortment. The brand has established a loyal fanbase over the years and we're excited to offer yet another touch point for beauty enthusiasts to discover their beloved products. We know our guests will embrace Mielle Organics into their routines as so many people have all over the world."