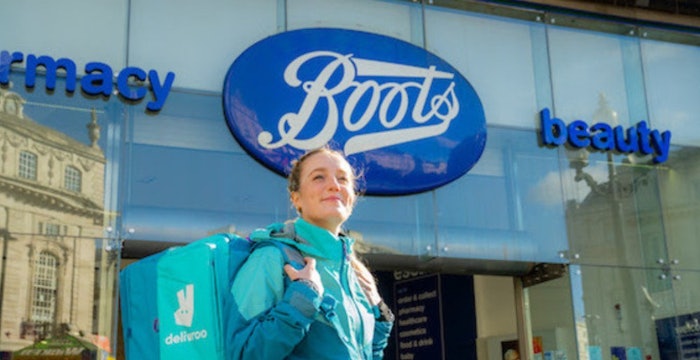 Deliveroo
Boots UK has announced it is launching the Deliveroo service at 14 pilot stores—including Edinburgh Princes Street, London Piccadilly and Nottingham Victoria Centre—giving customers access to more than 400 Boots products on demand.
The products offered include:
Bestselling beauty including No7, The Inkey List and CeraVe.
Toiletries and skin care favorites like tampons, deodorant and body lotion.
The partnership builds on a period of strong growth and consumer engagement for Deliveroo in 2021 as it continues to rapidly expand its on-demand grocery and convenience offering with leading retailers.
Deliveroo will further increase the choice and selection of on-demand convenience products to consumers.    
Paula Bobbett, director of boots.com at Boots UK, said, "We are very excited about this new partnership with Deliveroo and have carefully selected over 400 products for its launch to help our customers get the things they need, when they need them. It will be super handy for times when you need something urgently but can't leave the house, like if you're feeling unwell or are looking after your kids. Our online business continues to grow and this partnership offers our customers a way to access our products quickly and easily."
Carlo Mocci, chief business officer UKI at Deliveroo, said, "We are delighted to announce a new partnership with Boots in 14 stores across the country. Boots is the UK's leading health and beauty retailer and the top consumer choice for high-quality and popular products. This partnership will mean more choice and selection for our consumers, delivered in as little as 20 minutes, and will create more work for riders across the UK."