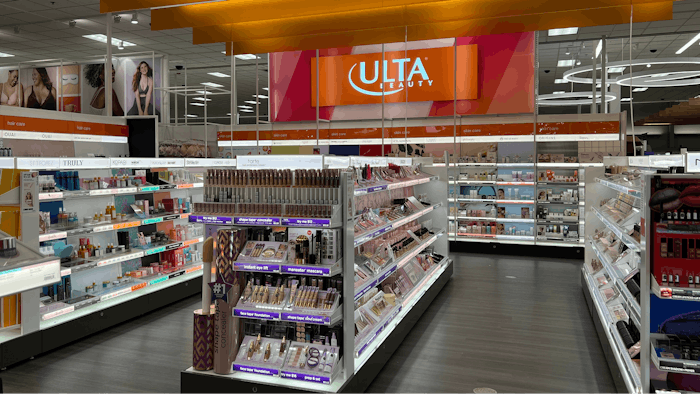 Ulta Beauty's fiscal 2022 Q4 and full-year results point to a resilient beauty category. For the 13 weeks ending January 28, 2023, net sales increased 18.2% year-over-year to $3.2 billion, due in part retail price increases, new brand introductions and product innovation. Comparable sales for stores open at least 14 months and e-commerce sales increased 15.6%.
Deep dive: The State of Beauty: 2023-2025
Meanwhile, full-year net sales increased 18.3% to $10.2 billion, driven by many of the tailwinds identified in Q4. Comparable sales increased 15.6%, driven by a 10.8% increase in transactions and a 4.3% increase in average ticket. 
In light of these results, Ulta Beauty is anticipating 2023 net sales of $10.95-11.05 billion, representing sales growth of 4-5%. It also anticipates opening 25-30 net new stores.
Ulta's Top-selling Categories & Brands
During an analyst conference call reflecting on the results, Dave Kimbell, chief executive officer, outlined the brands and categories that are drove results in Q4.
Key performers in skin care included serums, moisturizers, acne treatments and holiday gift sets.
Meanwhile, high-performing brands included Drunk Elephant, The Ordinary, Hero Cosmetics, La Roche-Posay and CeraVe. This year the retailer has also benefited from the addition of new brands like Byoma, sk*p and Vacation.
Fragrance delivered double-digit growth on top of strong double-digit 2021 growth, Kimbell noted, led by brands like Burberry, YSL, Dior, Billie Eilish and Ariana Grande's MOD. Holiday fragrance gift sets also did well.
Top categories in makeup were base and lip, including foundation, concealers, and lip balms and glosses.
Color cosmetic brands that led the pack included Fenty Beauty, r.e.m. beauty, Dior, Tarte, e.l.f., NYX, and Clinique.
Hair care delivered double-digit growth, led by brands such as Olaplex, Maelys, Donna's Recipe, Pureology, Redken, Biolage, Kristin Ess and Batiste. On the other hand, hair tool sales were "soft."
Decoding Ulta's Growth
A recent Placer.AI report identified three key drivers for Ulta Beauty's resilience in beauty:
In particular, New York foot traffic gains of 45.6% in Q4 2022 compared to 2019 (versus 26.2% nationwide)
Marketing to Gen Z and millennials on TikTok, generating shoppers who are younger than the general population
"Ulta Beauty's strong fourth quarter results punctuate an exceptional year with record sales, profitability, and member growth, reflecting robust demand and best-in-class execution," said Kimbell. "For the first time in our 33-year history, Ulta Beauty's annual revenue surpassed 10 billion dollars, our annual net income exceeded one billion dollars, and we exceeded 40 million Ultamate Rewards members. These milestone achievements demonstrate the power of Ulta Beauty's highly differentiated model, the health of the growing beauty category, and our winning culture and outstanding teams."
Kimbell continued, "As we move into fiscal 2023, we remain optimistic about the strength and resiliency of the beauty category, and I am excited about the opportunities ahead to continue to expand our leadership position, capture market share gains, and drive long term value for all our stakeholders."