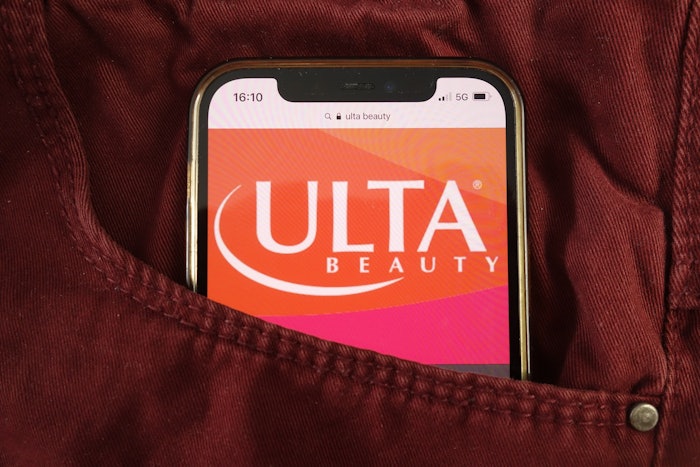 Ulta Beauty's Q1 2023 net sales increased 12.3% to $2.6 billion, compared to $2.3 billion in the first quarter of fiscal 2022, in part driven by new store performance. As a result, the retailer has modified its full-year guidance from a net sales range of $10.95-11.05 billion to $11.0-11.1 billion.
Sales for stores open at least 14 months and e-commerce sales increased 9.3% in Q1 compared to an increase of 18.0% in the first quarter of fiscal 2022, driven by an 11.0% increase in transactions and a 1.5% decrease in average ticket. 
Previously: Ulta Beauty Names Emerging Brand of the Year
Gross profit increased 12.1% to $1.1 billion, though the retailer has experienced higher inventory shrink (a challenge across most retail channels), lower merchandise margins, higher supply chain costs and deleverage of salon expenses.
Net income increased 4.7% to $347.1 million, while csh and cash equivalents at the end of Q1 totaled $636.4 million, compared to $737.9 million at the end of Q4 2022.
"The year is off to a positive start as the Ulta Beauty team delivered revenue, operating margin, and diluted EPS consistent with our internal expectations," said Dave Kimbell, chief executive officer. "Store traffic remained healthy, member growth showed continued strength, we delivered growth across key categories, and we strengthened engagement with the Ulta Beauty brand. While we expect the operating environment to continue evolving, we remain confident in the resilience of the beauty category and in our ability to drive share and profitable growth with our proven business model, a diverse, best-in-class assortment, an industry-leading loyalty program, and our world-class team."