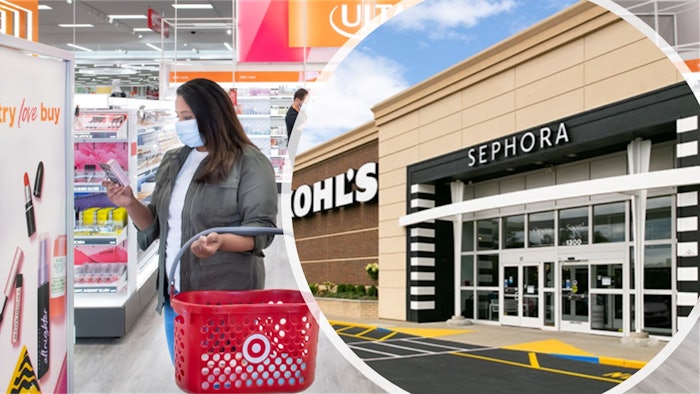 As with last year, Sephora at Kohl's and Ulta Beauty at Target continue to prove the power of beauty, even in uncertain times. To quote Tom Kingsbury, CEO of Kohl's, "the Sephora business has been very, very good."
The comments came amid the retailer's Q1 2023 analyst call. Kingsbury added that, "Sephora at Kohl's continued to outperform our expectations, driving a total beauty sales increase of 150% year over year. We achieved mid-teens comparable beauty sales growth in the 200 Sephora shops opened in 2021, and the sales trends in the 400 shops opened in 2022 continued to exceed our plan."
Beauty has been a strong driver for other retailers, too, notably Target. While Target posted mixed Q1 2023 results, the beauty sector continued to boom.
The retailer's EVP and chief growth officer, Christina Hennington noted on an analyst call, "Q1 performance was led by beauty, which delivered comp growth in the mid-teens, in light of continued strength in both core beauty and Ulta Beauty at Target assortment."
Target COO John Mulligan added, "Beyond the reinforcement of everyday best practices, we're preparing our team to support new services, including the upcoming rollout of drive up returns and the opening of additional Ulta Beauty at Target locations."
Target CEO Brian Cornell noted, "And now this year, even as guests are pulling back on discretionary purchases, we still grew traffic just under 1% in the first quarter as guests increased their spending in beauty, food and beverage, and household essentials."
The executive added, "We've experienced double digit growth in beauty sales for the last three years in a row, and just saw mid teen growth in the first quarter."
No wonder Sephora at Kohl's continues to expand.
Kingsbury explained, "We are in the process of further expanding the Sephora at Kohl's footprint, reaching more than 900 of our stores by the end of 2023. This is quite an impressive accomplishment and is a testament to how well the Sephora and Kohl's teams work together. In 2023, we will open 250 2,500-square-foot Sephora shops, of which 200 will open in the second quarter, with the remaining 50 in early Q3. This concentrated opening schedule will lead to elevated investments in Q2, as [CFO] Jill [Timm] will discuss. In addition, we have developed a 750-square-foot Sephora shop."
CFO Jill Timm concluded, "Store sales were up low single-digit percent, driven by strong Sephora at Kohl's growth," and added that, "with Sephora, we're bringing in a much younger customer."