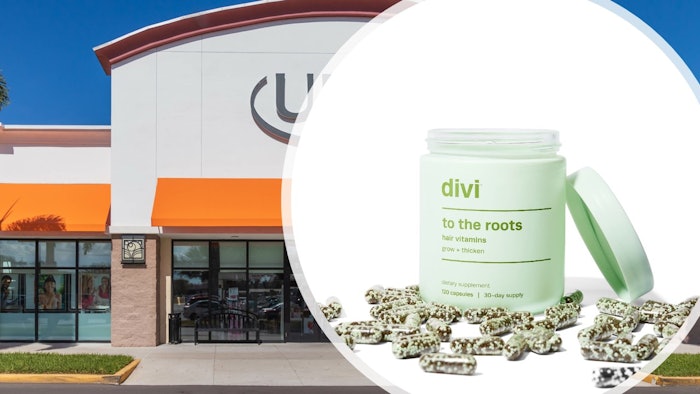 Divi, a vegan, U.S.-manufactured scalp and hair care brand that was among the most searched brands of 2022, has been named Ulta's Emerging Brand Launch of 2022. It also recently launched hair vitamins.
The brand, which debuted in 2021, launched in more than 100 Ulta stores in the autumn of 2022 as part of the retailer's Sparked program, the first brick-and-mortar partnership for Divi. Divi's products reportedly sold out in hours following the launch, and have since expanded to more than 400 Ulta locations.
The Ulta award was announced during Ulta Beauty's Field Leadership Conference held in Las Vegas.
"I am incredibly honored and humbled that we received the Emerging Brand of the Year award from Ulta," said Divi founder Dani Austin. "My face hurt from smiling when it was first announced! It's a testament to the hard work and dedication of our team. This recognition motivates us to continue making a positive impact in the lives of those who are looking to make scalp health a part of their wellness routine." 
Divi recently launched the To the Roots Hair Vitamins, comprising Nutrition21's Lustriva (comprising arginine silicate and magnesium biotinate), KSM-66 ashwagandha root extract, rhodiola root extract, a gamma E blend, zinc, B12 and the brand's Divi Roots-9 Complex.
"We are always looking to create new products that our customers will love," said Austin. "Hair supplements felt like a natural next step as we continue to explore additional avenues for better hair health from the inside out. As with all Divi products, To the Roots Hair Vitamins integrate seamlessly into any existing wellness routine, making it easier than ever to boost overall scalp and hair health."
"We're proud of the product we created and the clean, thoughtful ingredients that make it special," said Erica Hendricks, Divi's innovation scientist. "Through a blend of vitamins and minerals including vitamin B12, biotin, and zinc, To the Roots Hair Vitamins contain ingredients that help to address the underlying causes of hair loss and thinning."
The brand's science, research and development team is led by Rachael Fox, Divi's senior product director. Fox previously held roles at Honest Company, Nutrafol and Henkel.
Report: Hair Care's Skinification Accelerates