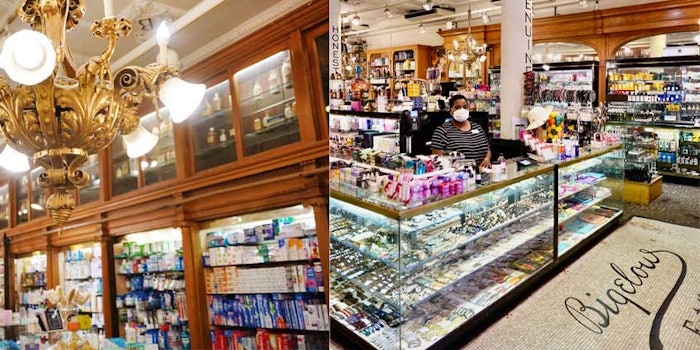 C.O. Bigelow is known for staying ahead of the trends by creating them and sparking inspiration in new and long-time customers in New York City. The retailer's president, Ian Ginsberg, recently shared his insights on how his legacy store has managed to hold tight during COVID-19. He plans to come out on the other side of the pandemic just as influential and strong as before and "ready when [shoppers] come back" in-store.
I learned that, much like its retail peers, C.O. Bigelow is continuously putting its trust into more online sales. In addition, the retailer has some advice for brands looking to be placed on its shelves.
Related: The Future of Beauty at CVS
Who is your typical shopper?
Ian Ginsberg [IG]: Before the pandemic, our clientele was a staple of New York culture ... local Villagers including a who's who from fashion, beauty and editorial, celebrities and tourists from around the world. Our relationship with some is different as we are also their pharmacist.
Now [as of May 2021], we're seeing zero tourists and zero commuters. Younger people between the ages of 20 and 30 seem to be the first to come back to New York City and the store. I anticipate families to follow and we're cautiously optimistic about the future.
What are they shopping for now?
[IG]: Young people are seeking brows, eye makeup, skin care, wellness, bath and body fragrance, and home fragrance. Color is coming back slowly but not as strong yet.
How has COVID-19 changed your business?
[IG]: Anyone who had somewhere else to go left New York City during the pandemic. Last March, our retail and online sales were explosive … While the store died down, the web remained strong for a while. By late summer [2020], [the] web lost some steam and continued doing OK through the holidays. Online has become increasingly crowded, and it's tough to get attention. There are more DTC brands, more aggregator websites, Amazon, Sephora, Ulta, department stores, specialty stores, etc., with immense loyalty programs. It's gotten a little crazy out there in e-commerce.
How do you influence shopping trends?
[IG]: We listen to our customers and follow their journey. We know them well because we've been talking to them for 183 years. The store is a collection of our favorite things, as well as our own … the best of the best in beauty and personal care from around the world. It's more tightly edited than most because we believe that over-assortment only serves to confuse people. Our secret sauce is our sales people, many of which have been with us for years. They are super knowledgeable, they love beauty and they love our customers.
What do you do to try to reach customers?
[IG]: We try to reach them any way we can. Through our social channels, email, blogs, editorial and of course through our amazing sales staff. We can't be everything to everyone. We try [to] be creative.
How can brands better support you and better succeed?
[IG]: People shop in-store and online and for different reasons. We can't dictate where they replenish but we can affect what happens in-store. We want to create an environment for people to touch, feel, learn and experience. Our team needs to be empowered to deliver the right experience and the right message for your brand. You should embrace this opportunity and give them the tools to do this. If you ship us a box and disappear, I can tell you're wasting both of our times and I can tell how it will end. Retail is the ultimate space to acquire customers in real time.
What are you doing to navigate the new normal?
[IG]: We have taken the time to build our own marketing and digital team and try to really understand our digital customer so we can communicate with them as we do to our C.O. Bigelow store customer. It's crowded online and we have to be more creative and make sure we're communicating in the right way.
Is there anything in particular that you are looking to have at the store?
[IG]: We're always in search of great beauty and personal care. While we don't necessarily have a specific mission or goal, it's more about great products that do what they say and touch people (and our customer) in [a] meaningful way to enhance their lives.
What surprises has COVIDbrought to you both good and bad?
[IG]: COVID was the great accelerator. Many of its side effects were happening anyway and they just accelerated [including] online, brand and product transparency, sustainability, [and] channel melting. None are good or bad, but probably happened a lot quicker than I originally thought.
What do you look for from your brands?
[IG]: Google is the enemy of stupidity—consumers read stuff and challenge our employees. Your team needs to know things and brands can't 'dump and run.' They have to get staff to want to talk about their brand and get customers to want to learn about it.
Who do you think are the most influential celebrities on your customers?
[IG]: Online influencers are sources of inspiration for our customers, but at the end of the day word of mouth from friends is more powerful. Influencers accelerate the acquisition but you can't put a price on 'phone a friend.'
Do you have plans for growth? If so, what?
[IG]: For the future, I want to get out of this tunnel and take care of everyone again. We plan to be ready when the people, celebrities and New York come back.