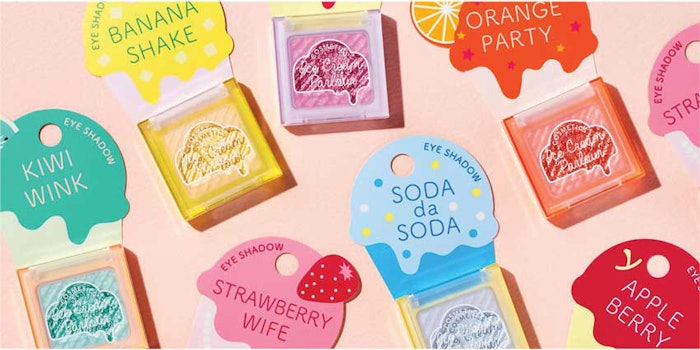 It's hard to tell when it happened, but what was once science fiction is now reality. Some of us remember the futuristic digital closet that helped Cher put outfits together in the 1995 movie Clueless. Today, we have Amazon Echo's stylist device. And each one of our smartphones is millions of times more powerful than all the computers used by NASA to put men on the moon in 1969.
The future is here. And with it, new beauty consumers. Not millennials, but a new generation entirely. Gen Z—as they are typically called—were born beginning at the end of the 1990s. Its oldest members are now hitting adulthood, and brands need a total mindset change for them.
Gen Z makes up about 25% of the global population. Despite their tender age, they pack serious purchasing power. In the United States alone, this generation's direct spend is $143 billion, a further $127.6 billion is spent on them and they influence a spend of an additional $333 billion, according to research by Funga. But it's not just a case of big numbers. Here, we examine a few key behavioral trends that point to a new worldview.
Digital First, Last and Everything
Smart devices have been superglued to Gen Z's hands from the moment they could hold them. As a result, they behave incredibly differently from past generations.
For Gen Zs, there's no distinction between the online world and the so-called real world. The US National Institute for Health's annual survey of 50,000 high schoolers, undertaken annually since 1975, has found that since the advent of smartphones teens engage in fewer real life experiences—from hanging out with friends and having sex to learning to drive and getting enough sleepb.
The Japanese refer to those impacted by this phenomenon as neo-digital natives. These individuals prefer to use video and emoji, not voice or text. Mintel recently found 60% of teens only use emojisc to message, and 35% say they "couldn't live without YouTube."
These consumers are always online when awake: mainly on Snapchat, Instagram and other visually driven social platforms—often using several concurrently. They multiscreen and watch TV, but that's mainly on-demand. PR Week found that 70% of 16-21-year-olds claimd they view most of their content, news and day-to-day information through social media and are thereby exposed to thousands of different types of information in a single day. And, with their famed eight-second attention span (millennials reportedly have a span of 12 seconds), catching and keeping Gen Z's attention is ever harder.
Heavily Under the Influence
With social media's domination, word of mouth has been radically transformed and amplified. Gen Z is in constant contact with friends and influencers, holding a mirror up to their lives and aspirations.
Beauty offers a particularly easy path to experiment with individuality. Mintel found that 56% of teens use beauty and personal care products to feel empowered, express themselves and be more confidente. Sharing beauty looks helps connect them with friends, brands and celebrities, and gain social acceptance through likes, follows and comments.
Decisions and purchases are made based on the constant influx of recommendations and opinions. Although most beauty purchases are made in-store, more than 40% of Gen Z makes purchase decisions based on real-time social media feedback. A beauty brand's packaging or product might catch their eye, but if someone's influencers don't like it? No sale.
Intrinsically Individual
Rigid socio-demographic definitions no longer apply: blended families, single parents by choice, increasing ethnic and racial diversity due to migration or multiracial marriages, social attitude changes toward gender expression, and other factors reveal an evolving society.
JWT's survey of teens in the United States found that only 48% of Gen Zs identify as entirely heterosexualf, and 56% said they knew someone who went by gender neutral pronouns (compared to 43% of those aged 28 to 34 years old). That brands must reflect this diversity is now a basic expectation. One-size-fits-all fits no one—being your best you is everything.
Exceedingly Value Conscious
Value is vital, in the broadest possible sense. Gen Zs want everything to be amazing, on every level. Their expectations of brands are sky high—from behavior to products to price to doing good. They know recycling is necessary, climate change is happening and testing on animals is wrong. They expect brands to do good, and to make it easy for them to do so, too. And since news of brand transgressions is at their fingertips in a nanosecond, backlash can be swift and harsh.
Having grown up in austere times, they're price and value conscious and always shop around. A 2017 study by HRC Retail Advisory found that Gen Z buys 55% of its beauty purchases through discount retailers like Amazon or Walmart. Everything is about bang for buck and excellence.
What Should Beauty Brands be Doing About It?
It might be tempting to see these radical shifts in behavior as a short-term phenomenon. Maybe it will change a little, as parents see the negative impact of excessive screen use. But it's unlikely much change will happen, since similar behaviors are starting to feed into older generations. Consumers of all ages are shifting from desktop computer to smaller mobile screens, using videos and voice for search, and shopping with social feedback. So, here's my checklist for what beauty brands must do to adapt to this exacting consumer.
Design for Digital First
If it's not suitable for digital, it's not suitable: That means the entirety of the visual identity, packaging design, structure and wider brand communications.
Simpler, bigger, bolder icons: Clarity of design is everything, so it jumps out when viewed on ever-smaller screens and in lifestyle photos. Think emojification and graphic line drawings like Being by Sanctuary and men's grooming brand LQD Skin Care, which uses symbols to great effect.
Block typography and color: Blocks of color and typography used as visual devices are fantastic for navigation and brand recognition from a distance. Think of Milk's logo, Drunk Elephant, Waso, Glossier and 3ina. Ombre block is a new twist, as seen in Target's new age eight and up range, C'est Moi.
Stand out shapes: Unique structure pops. Think Pat McGrath's Fetish balm, Lancome's macaron-shaped blushers or Katy Perry's Cover Girl collaboration, which included Katy Kat lip glosses with a cat-shaped "kitty cap."
Complete visual consistency: Any discrepancy between a brand's physical identity in-store and its online presence is bound to jar with these visually aware consumers. 3ina and Urban Decay are both stand-out examples of how to fuse every element of packaging and structure with retail design.
Brands Must be Straight Up and Sustainable
It's not just the brand's visual identity that has to cut through the noise. Absolute clarity in brand language, messaging and brand story is also vital. If a brand can't get messages across quickly and easily, then influencers won't be able to either.
No jargon, no BS: Ceramides, pentapides? Say what they are and what they do. Think of the organic beauty range By Sarah, which features a full ingredient list that doesn't baffle with scientific jargon. Visually, brands and retailers are increasingly dropping the airbrush, with ASOS, CVS and others showing skin and bodies how they really are.
Do no harm—to me: Mintel has reported that 75% of 12-14-year-olds and 69% of 15-17-year-olds prefer the natural look and seek beauty that reflects a "natural" perspective, as well as "clean" or organic formulasg. Kopari, Mother Dirt and Lanolips all cleanly stand out.
Do no harm—to animals: Cruelty-free is a baseline for younger consumers, and vegan beauty continues to climb up the Google search rankings each year. But design matters: Kat Von D, Tarte and Too Faced are eons away from the crunchy hippy designs of yesteryear.
Do no harm—to the planet: Gen Zs are less willing to pay a premium for sustainable products than millennials, but they want them anyway. It's a win-win for brands if they combine sustainability issues with customer rewards and engagement initiatives, like refills at MAC or beach clean-up events. For example, recycling company TerraCycle partners with P&G, L'Oréal and others on many reuse programs.
The Individual is Everything
Whether it's personalized or super limited edition, making each 21st beauty consumer feel uniquely special is a must. Even better, get them involved and engaged by co-creating their own products.
Get personal: Personalization is on the rise, whether in-store or online. Innovations in this area include Bare Minerals' custom color foundation, developed using MatchCo's skin tone assessment technology, Innisfree's My Cushion customized foundation compact, Eyeko's online bespoke mascara service and newcomer Plum Perfect's selfie-based personalized product recommendation tool.
Intrinsically inclusive—in language, product and design: The long and short of this huge topic is that beauty consumers demand inclusivity. That means everything from providing a full breadth of cosmetic shades to brand ambassadors that reflect diversity in gender, size, age and background. For instance, MUFE number codes its foundations, rather than using potentially problematic skin color names like "fair."
Limited editions and collaborations keep it fresh: Whether exquisitely designed seasonal products or limited runs of collaborations, Gen Zs love being part of an exclusive group. In practice, exclusivity can mean certain products are available only in select stores, like Fenty Beauty in the United Kingdom, only accessible through an Instagram campaign, or as a limited edition pop-up brand concept, like Shiseido's Cosmetic Press.
Interactive and shareable: Consumers want to try before they buy and ask for opinions, so the technology behind try-on apps is spreading like wildfire, with in-store magic mirrors like those seen at Charlotte Tilbury and the plethora of apps from companies like YouCam and Sephora, as well as brand-specific versions from Rimmel, Benefit and L'Or

é

al.
Accessible and Easy Products
Gen Z consumers want things when and how they want them. Beauty products need to work hard and be easy to use and try.
All about convenience: Gen Zs have a more relaxed approach to getting ready and change plans at the last minute, so new ways to buy and try products is essential. Beauty vending machines are popping up from companies like Ulta, Revlon, St Ives and Sephora. And now even 7-11, the undisputed king of convenience retail, has its own beauty brand. All sorts of wipes, sticks and products with built-in applicators also appeal. For instance, Aussie male fragrance Solid State is designed to be so small that it fits in a coin pocket and can be applied with a swipe of the finger.
Marvelous multi-tasking: Space and time-saving products are a must. Unilever has a whole range of instant shower mousses for washing and shaving. Walgreen's new CYO range features multipurpose products, including a 3-in-1 Eyeshadow, Liner and Mascara. Bybi's Babe Balm has 10 different purposes and is flying off the shelves.
Keep it sample: Given Gen Z's urge to try new things and its love of value, being able to try products via mini sizes and samples before a full-size purchase is increasingly important. Pat McGrath recently launched three mini-sized (and mini-priced) limited edition versions her Mothership palettes. MAC has Little MAC, pint-sized versions of some its most iconic products. Sephora has a whole page dedicated to minis. And, on the sampling side, Amazon Prime is starting a beauty sampling service that lets subscribers buy individual samples of products or boxes of taster products. Birchbox and others, beware!
Footnotes:
awww.fungglobalretailtech.com/research/gen-z/
bwww.nih.gov
c"83% of America's iGeneration Love Getting Stuff in the Mail"; www.mintel.com/press-centre/social-and-lifestyle/83-of-americas-igeneration-love-getting-stuff-in-the-mai
d"Generation Z is changing the face of marketing"; www.prweek.com/article/1405894/generation-z-changing-face-marketing
e"Beauty is Child's Play: 80% of US Tweens Use Beauty and Personal Care Products"; www.mintel.com/press-centre/beauty-and-personal-care/beauty-is-childs-play-80-of-us-tweens-use-beauty-and-personal-care-products
fwww.jwtintelligence.com
g"Americans Embrace the 'Natural Look,' Including 54% of Millennial Beauty Consumers"; www.mintel.com/press-centre/beauty-and-personal-care/americans-embrace-the-natural-look
Sara Jones is a partner and client services director at Free the Birds (https://freethebirds.com/).