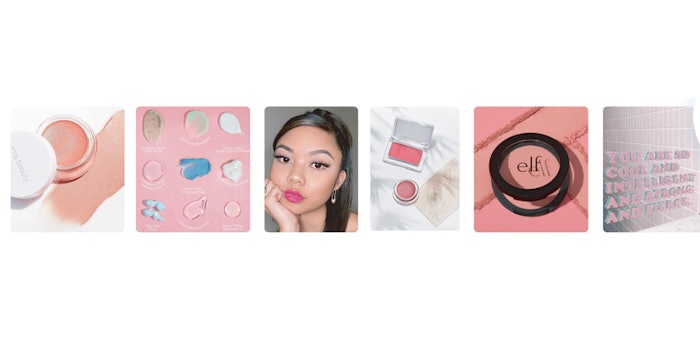 Dash Hudson's AI technology has the power to read images beyond the scope of the human eye. It can analyze every component from subject to composition, color palette, texture, setting and more. The technology can understand the minute visual details that drive engagement on Instagram. 
For the beauty sector, this means brands can get a better idea of the content that resonates in their own feeds, as well as what competitors are sharing, to find gaps in their offering and direct new creative. Is there a difference between what mass beauty brands are sharing compared to smaller indie brands? Do the ethics of a brand's audience play a role in how they consume content?
 In this case, Dash Hudson used its Visual Trends tool to review the Instagram accounts of top mass and indie beauty brands to surface current aesthetic trends in each category. 
Orange Crush
With summer fast approaching, beauty's biggest brands are all about vibrant orange. Glossy product shots shine in this warm, seasonal hue, but the average engagement rate for the trend is on par with the industry average—an indication that mass brands still have work to do if they want to move the needle on social. 
A key differentiator for these mainstream brands has always been highly stylized studio photography, but in the current climate, it might be more effective to keep it real with customers and lean toward lo-fi content. 
Mass beauty average engagement rate: 0.28%

Trend average engagement rate: 0.28%
'Werk from Home'
Indie beauty has embraced the social distancing era with aplomb. The industry's hottest Instagram trend is the at-home selfie and it's resonating with followers in a big way. 
Starring everyone from company founders, celebrity MUAs and brand fans, this relatable style of imagery has seen a more than 63% increase in engagement compared to the industry average. If the desire to maintain beauty routines during a global pandemic was ever in question, this seems to hold the answer. 
Indie beauty average engagement rate: 0.74%

Trend average engagement rate: 1.21%
A Study in Pink
Fans of ethical beauty brands have been tickled pink by their recent slew of rosy content. Subjects and compositions vary from product close-ups and swatches to selfies and aesthetic inspo—and it's working well. 
The bright, happy color is striking a chord with audiences, as engagement for the trend is up more than 64% compared to the overall industry average. What ethical brands get right is the varied content mix and dedication to their respective niche aesthetics. 
Ethical beauty average engagement rate: 0.56%

Trend average engagement rate: 0.92%
Key Takeaways
What stands out here is the strong contrast between mass beauty's approach to Instagram and its indie and ethical counterparts. While the visual content may have similarities, the way audiences are engaging with it vastly differs. And in many ways it makes sense—accounts with larger followings almost always see lower social engagement with little-to-no reflection on the business side. 
On the other hand, the fact that ethical and indie brands are seeing growth within their unique trend content indicates that they're staying in touch with what audiences want. Sustainability is definitely top of mind for many individuals across the globe, and this could be a sign that beauty lovers are keen to support smaller businesses that align with their views.