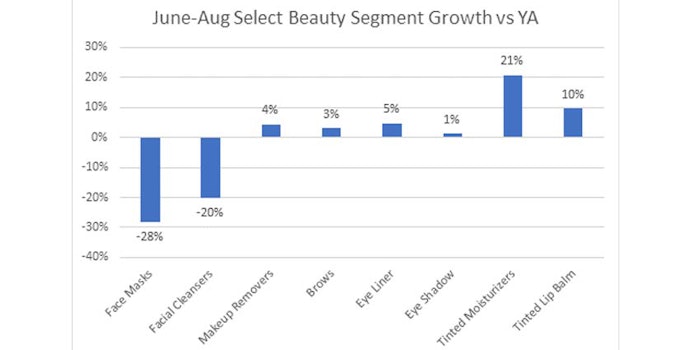 1010data has reported an upward trend for cosmetics between June and August 2021, with search and sales growth compared to last year. Facial and skin care sales decreased.  
Related: Trending: Serum Foundation and 'Dolphin Skin'
1010data specializes in retail and consumer product analytics. It reported that while skin care was an area of focus for consumers during the pandemic, there has been a shift toward cosmetics as more consumers return to work and social life.
1010data says the shift started in the summer but is also reflective of the year. The top-ranked search terms this year leading to a beauty purchase on Amazon and Walmart are "mascara" and "gel nail polish." Last year, they were "face wash" and "shampoo."
This is reflected in sales as well. Segments like brows, eye liner, eye shadow, tinted moisturizers, tinted lip balm and makeup removers saw increased sales compared to the same period last year. Tinted moisturizers increased the most, with a 21% sales growth.
Face masks and facial cleansers decreased 28% and 20%, respectively.