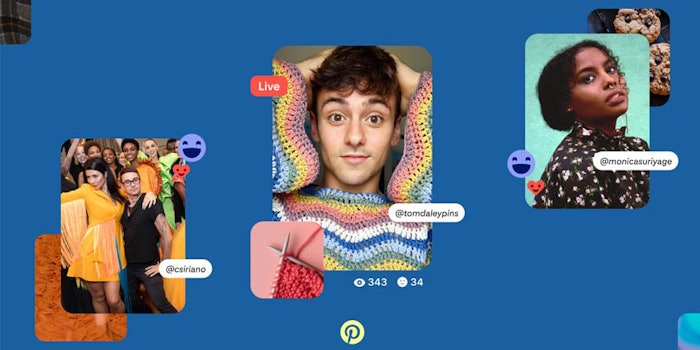 Pinterest has launched a series of original TV programming on its website and mobile app. Pinterest TV features shoppable episodes featuring Pinterest creators that are refreshed each weekday and available on demand. Each Friday, products will release in a live shopping experience with brand discounts.
Related: Shop Lit Live Delivers Livestreaming Beauty
Creators can showcase and tag products on Pinterest TV for consumers to shop on the retailer's website with a shopping toolbox that includes a product drawer with prices and product details, product launches and brand collaborations, stock information and limited-time discounts.
Pinterest is also launching a virtual studio where Pinterest producers work directly with each creator to develop content, provide A/V support and go live with engaging episodes.
Pinterest TV's original programming at launch includes:
Manny Does—Beauty entrepreneur, Manny Mua brings his wisdom to the most common holiday beauty needs in this weekly series.
Christian On—American fashion designer and Project Runway alum Christian Siriano explores the most-searched fashion terms on Pinterest.
Unfail My—director and screenwriter Monica Suriyage is joined by Pinterest food creators to "unfail" the holiday dishes of cooks across the country, including a collapsed gingerbread house and an inedible vegan chocolate chip cookie.
Tom Tries—Tom Daley, Olympic gold medalist in diving and knitting enthusiast, will spend time each week learning new skills from grandmas and grandpas.
Buy This—Host and comedian Robyn Schall, along with Pinterest creators, will show how products from brands like Melody Ehsani and Crown Affair look and feel in real-time.