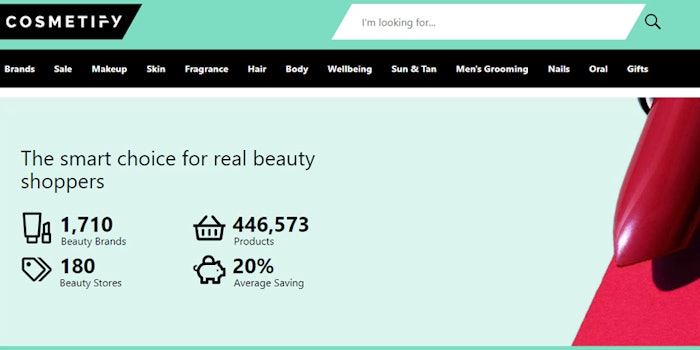 Cosmetify, an online price comparison platform for beauty products, has launched in the United States.
Previously: Cosmetify Launches Price Comparison App
The platform features more than 2,000 beauty brands and more than 400,000 products and allows consumers to instantly find and compare the prices of their favorite products. 
Cosmetify has also partnered with retailers in the United States including Sephora, Amazon, Walgreens and Macy's.
Cosmetify features a beauty glossary of popular ingredients and buzzwords to give customers clear information on whether products are natural, vegan or eco-friendly, or if brands have gone plastic-free.
The platform also includes a beauty blog of trend-led stories, reviews, tutorials and expert advice.
Founder Matt Davies said, "After the huge success with our U.K. platform, we wanted to launch Cosmetify in the United States to ensure American beauty shoppers are finding the best deal on the beauty products they love. We also want the platform to replicate the transparency and impartiality of our U.K. platform, offering clear information on delivery costs, product availability as well as displaying what ingredients are used to make the products. It's also important that we have a vast product range and we have already partnered with many top retailers including Sephora and Bloomingdales."