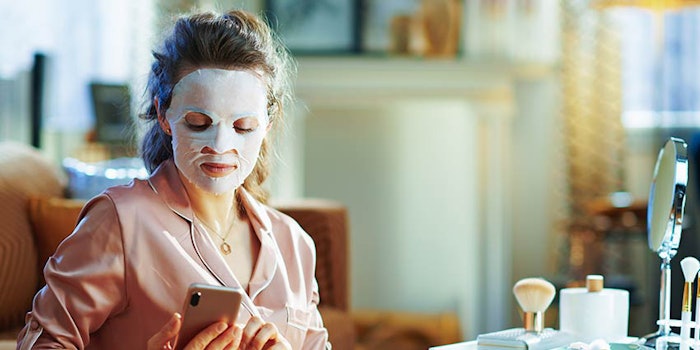 Prior to COVID-19, just 9% of global consumers shopped online regularly, a segment that exploded to 27% amid the disease's spread, according to new data from Nielsen. By May 2020, 66% of global consumers were omnichannel shoppers, with the Asia-Pacific and Africa-Middle East leading the way at 78% and 75%, respectively.
Prior to the COVID-19 pandemic, U.S. health and beauty online dollar sales growth was 19%; however, between March and July 2020, that growth exploded to 106%.

This uptick was fueled by the 15 million new FMCG online buyers created during that period. Many of these shoppers are so-called "constrained" consumers—"those whose income and spending have been significantly curtailed or constrained due to unemployment, furloughing or other COVID-19-related challenges," per Nielsen.
How stark is the growth? Consider these stats:
31% of constrained consumers shop online more than once a week, compared to 18% of more financially stable shoppers

20% of these constrained shoppers often use online channels as their top purchasing destination

72% of the world's constrained consumers are

omnichannel

shoppers, compared to 62% of inslulated shoppers
What's Happening at Retail?
Nielsen notes that per trip/transaction sales online are up 114% for online FMCG and continues to grow, while in-store FMCG sales have plateued. Year-to-date, the online FMCG growth rate is 5.7x that of offline FMCG growth.
Brick-and-mortar stores experienced peak spending in the two week period ending March 21, when year-over-year sales were up 57%. That gain has dipped to a gain of just 11%, according to Nielsen.
During that same period in March 2020, online spending rose 92% year-over-year and, in the latest 13-week period reached 98% year-over-year. By May 2020, 44% of global consumers claimed to be shopping online every week, with 23% doing so multiple times each week.
Why Constrained Consumers Shop Online
Consumers with limited resources have found that e-commerce offers a range of benefits, including:
multiple delivery options, including click-and-collect and no-contact delivery
easy product/brand research
ready price comparisons
easy deal hunting
Nielsen's Ailsa Wingfield suggests that brands and online retailers can build loyalty with "preferential pricing and promotions on essential product ties."
Brands and retailers not yet targeting constrained shoppers have an opportunity, particularly because discounters tend to have less than robust e-commerce capabilities.