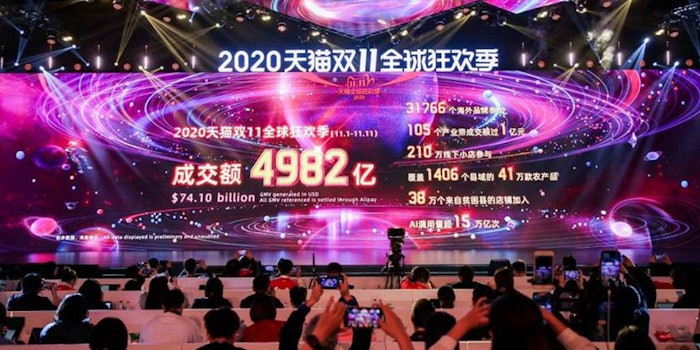 As we reported earlier this week, Alibaba's 2020 11.11 Global Shopping Festival, was already on track to smash records. The 11-day event has now reported that this year's edition, often referred to as Singles Day, generated $74.1 billion in gross merchandise volume (GMV) transacted during should erase them. Total GMV for the 2019 event (calculated from Nov. 1-11) totaled $38.4 billion.
The 2020 event featured two shopping windows, the first from Nov. 1-3, and the second for 24 hours on Nov. 11.
Review: 11.11 2019 Results
According to Alibaba, 474 brands participating in 11.11 each surpassed RMB100 million (about $15 million) in GMV this year.
More than 26,000 brands from 84 countries and regions took part in 11.11, offering 1.2 million new products from overseas to Chinese consumers.
Overall, 31,766 overseas brands offered goods on Alibaba's cross-border platforms this 11.11.
The GMV for U.S. brands taking part in the 2020 event was $5.39 billion. This represented the largest contribution from a single country or region outside of China, per Alibaba president Michael Evans.
This year, 28 livestreaming channels on Taobao Live each surpassed RMB100 million (about $15 million) in GMV. Taylor Swift, Selena Gomez and Earvin "Magic" Johnson participated as influencers in its "Walk of Fame" program. Johnson even livestreamed for Uncle Bud's, as the U.S. hemp and CBD products brand.
Alibaba's Business Operating System (ABOS) was tapped by a number of large multinationals, including Unilever and L'Oréal. ABOS provides users with access to Alibaba's ecosystem of infrastructure for sales, as with Taobao and TMall, logistics (Cainiao), supply chain, payments (Alipay), marketing (AliMama) and cloud-based technologies (AliCloud), as described in this January 2019 interview in Forbes.
L'Oréal has reported used ABOS to boost its marketing and product innovation. For instance, it worked with Alibaba's product-incubation unit, Tmall Innovation Center (TMIC), to build a "knowledge library" of industry insights and trends across skin care, men's and women's cosmetics, hair care and fragrances.
L'Oréal has also integrated its ModiFace technology within the Tmall app, representing more than half of its makeup offerings on the platform, to improve the shopping experience, per Alibaba. Consumers can access the AR-powered feature while watching livestreams from YSL Beauté and other brands.
Finally, Maybelline is developing a new lip product based on TMIC's insights. The product is set to launch early next year.