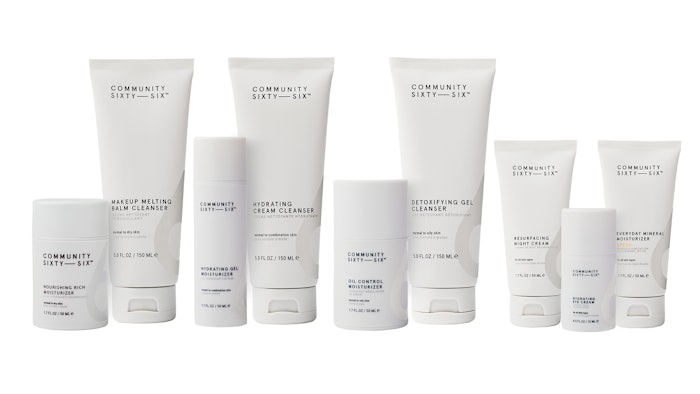 Community Sixty-Six is now available exclusively on Sephora.com.
As previously reported by Global Cosmetic Industry, each product has at least 66-days worth of use.
The products are cruelty-free, vegan and fragrance-free.
The nine product lineup includes:
Makeup Melting Balm Cleanser: This buttery balm with oatmeal, sweet almond oil, and plant extracts removes makeup, SPF and impurities from the skin's surface.
Hydrating Cream Cleanser: A featherweight cream cleanser with hyaluronic and polyglutamic acid that gently eliminates daily dirt, while keeping skin balanced and hydrated.
Detoxifying Gel Cleanser: This lightweight, oil-free gel cleanser purifies skin, unclogs pores, mop ups excess oil and visibly minimizes blemishes.
Hydrating Gel Moisturizer: Infused with antioxidants plus hyaluronic, polyglutamic, and lactic acids, it hydrates both the surface of the skin and beneath.
Nourishing Rich Moisturizer: This antioxidant-rich cream reinforces and supports the skin's moisture barrier while protecting against environmental stressors.
Oil Control Moisturizer: Featuring ingredients like azelaic acid, niacinamide and squalane, this moisturizer calms skin, fights blemishes, and whisks away excess sebum throughout the day.
Resurfacing Night Cream: This fragrance-free formula visibly hydrates, restores, brightens, plumps and protects skin.
Hydrating Eye Cream: Featuring a blend of caffeine, niacinamide, Heptapeptide and squalane, the cream visibly diminishes puffiness, dark circles and fine lines.
Everyday Mineral Moisturizer SPF 30: A broad-spectrum SPF 30 sunscreen with zinc oxide, hyaluronic acid and niacinamide.