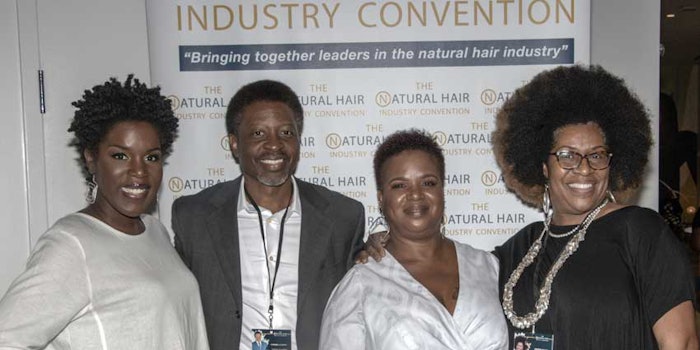 The fourth annual Natural Hair Industry Convention was held on Nov. 12, 2017 in Atlanta, with nearly 40 technical and theory-based natural hair classes, business development workshops and hundreds of hairstylists from all around the world.
Some known industry professionals who were at the show included Diane C. Bailey, natural hair care pioneer; Kari Williams, Ph.D., celebrity stylist and trichologist; and Michelle London, Sherelle Holder and Typh the Braider, natural hair artists of Essence China.
Other experts of renown natural hair brands offered their expertise and counsel to attendees, including: Shavonne Riggins of Curlkalon; Cornell McBride, Jr. of Design Essentials; Renee Morris of Uncle Funky's Daughter; Anita Hill-Moses of Natural Hair Restoration Products; and Bernard Bronner of Bronner Brothers Haircare Products and the Bronner Brothers International Beauty Show.
"We are thrilled with all of the positive feedback we've received from our attendees this year," said Angela Walker, co-founder of the Natural Hair Industry Convention. "Making the show a destination education retreat in Atlanta allowed us to get our full wish list of natural hair industry leaders."
"Our first time in Atlanta has been the best convention yet," added Susan Peterkin-Bishop, co-founder of the Natural Hair Industry Convention. "We not only surpassed expectations with overall registrations but we were blown away by the quality of the professionals who attended, including many who are renown in their own right. Atlanta has set us up for an even better convention in 2018."