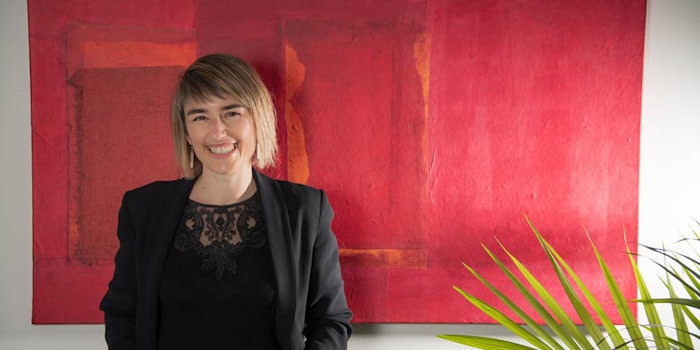 Ségolène Moyrand-Gros has been appointed to the presidency of 140-year-old Gattefossé, succeeding her father, Jacques Moyrand, and representing the fifth generation of the family to run the company. Moyrand headed Gattefossé for 25 years and will remain on the board of directors. 
Moyrand-Gros, who has served with the company since 2006 and the board since 2013, holds a master's degree from ESCE International Business School, and a specialization in industrial marketing at IAE Lille, France. She also obtained an Executive MBA at EM Lyon, France.
Moyrand-Gros has held roles in international marketing, communications and executive-level CSR.
She takes the helm following a 2020 in which the company achieved turnover of €116 million, driven by pharmaceuticals and personal care. It also launched its Elevastin beauty technology in April.
"It is with a lot of pride, determination and enthusiasm that I have accepted this position," said Moyrand-Gros. "I wish to continue the success story written by my predecessors, whose talent and personality have made the company what it is today. Gattefossé has both the potential and the means to forge a brilliant future. It is also a human adventure, as underlined by our tagline 'People Make Our Name,' that characterizes our company. My ambition for Gattefossé is to achieve sustainable and responsible growth."
"We are lucky to operate in stable and complementary markets, which have been globally spared from the crisis," said CEO Eduardo de Purgly. "We believe that this stability and growth will continue, allowing Ségolène and me to build our collaboration in the best possible conditions. The 10 years I have worked with Jacques have been rich and it is an honor to continue this family adventure with Ségolène."
"After many years as president of Gattefossé, the time has come for me to step back," said Moyrand. "And it is with great confidence and optimism that I hand over the family torch to Ségolène. She has demonstrated the skills and qualities that one would expect of a president and I know that she is well supported by our management team. Together with Eduardo de Purgly, chief executive officer, they form a strong tandem. A new page is opening for Gattefossé, under the sign of youth and femininity."