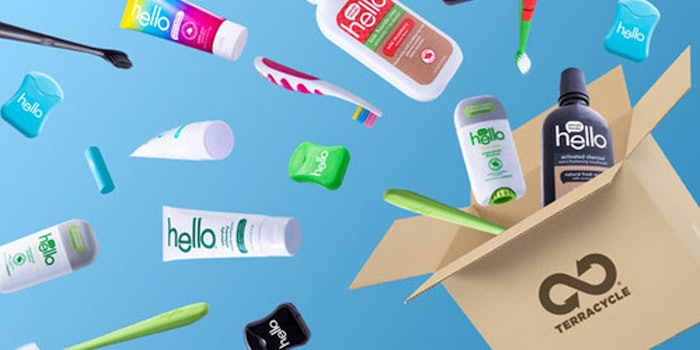 Hello Products and Tom's of Maine have announced a partnership with TerraCycle and inclusion in the Natural Care Recycling Program—a recycling initiative that offers a free way to recycle personal care products through a mail-back collection program.
Related: Friendly, but Serious: Inside Hello Products' Rapid Growth
Once the product is collected, the packaging is cleaned and melted into hard plastic that can be remolded to make new products.
Every shipment of personal care packaging sent to TerraCycle earns collectors points that can be used for charitable gifts or converted to cash and donated to a non-profit, school or charitable organization of their choice.
Hello Products' founder Craig Dubitsky says, "We're proud to partner with TerraCycle to help bring advanced recycling options to more families and communities. Hello's mission is to create the most natural, effective, personal care products as possible, in the friendliest and most sustainable way possible."
Esi Seng, general manager of Tom's of Maine, says, "As the activist for everyday good, we're proud people have recycled over 1.5 million pieces of personal care packaging through this fantastic program. By adding Hello to the mix, we think we can help achieve even more together, and we look forward to the partnership."
Tom Szaky, CEO and founder of TerraCycle, says, "The Natural Care Recycling Program represents a unique and sustainable opportunity for consumers to divert waste from landfills. Together, with the help of Tom's of Maine and Hello, we are making it simple to eliminate the idea of waste and have a positive impact on the environment for future generations."