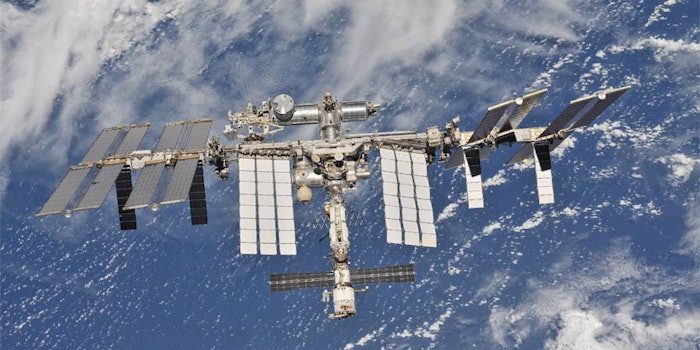 Estée Lauder has announced that it is the exclusive partner of the International Space Station (ISS) National Laboratory Sustainability Challenge: Beyond Plastics.
The project is an open solicitation in the United States to propose projects that utilize the ISS platform for applied research and development. This is the first instance of a beauty brand partnering on R&D with the ISS National Lab to advance sustainability research for plastic alternatives. The company will provide funding for the awarded proposals.
Related: Estée Lauder Taps Eastman Renew for Sustainability
The ISS National Lab Sustainability Challenge: Beyond Plastics aims to use the unique ISS environment to develop, test or mature products and processes toward plastic alternatives.
The project intends to reduce plastic waste, reduce virgin plastic manufacturing and find alternative feedstocks and pathways for polymer production beyond petrochemicals.
Applicants must submit a concept form to address a whole-of-life design approach to the production of virgin polymers through sustainable feedstocks or the biodegrading or upcycling of end-of-life of polymers.
A subset of applicants with the most promising concepts will then be invited to submit a video describing their concept in more detail.
The finalists' recorded presentations will be showcased to a global audience during the Sustainability Challenge event at the Kennedy Space Center Visitor Complex on March 19, 2022.
Stéphane de La Faverie, global brand president of Estée Lauder and Aerin and group president of The Estée Lauder Companies, says, "We are proud to be the exclusive partner of the ISS National Lab Sustainability Challenge, funding research for future-thinking plastics alternatives. As a global leader in the beauty industry, we are committed to furthering scientific research and innovation for more sustainable business practices. We are excited to be part of an initiative that could be truly transformative for our brand, our beloved consumers and the future of our planet."
Christine Kretz, vice president of programs and partnerships for the ISS National Lab, says, "We are excited to collaborate with Estée Lauder as we seek novel advancements through space-based research and development to mitigate plastic pollution on our planet. We thank Estée Lauder for its enthusiastic support of the ISS National Lab Sustainability Challenge: Beyond Plastics, and we look forward to working alongside researchers as they propose science that will improve the environment of our beautiful planet."