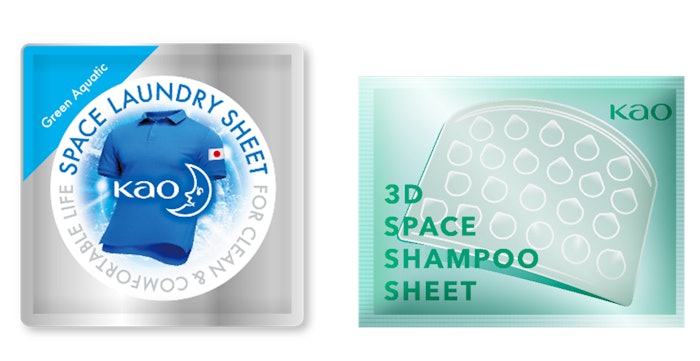 The International Space Station (ISS) is using Kao's Space Laundry Sheet and 3D Space Shampoo Sheet onboard the space station in 2022. The products are specifically designed for astronauts living in outer space.
Related: Estée Lauder x International Space Station Sustainable R&D Project
Water is a precious resource in outer space, providing challenges for daily life on the ISS. Clothing cannot be washed, and astronauts use a special shampoo with a minimal amount of water for hair care.
The weightless environment in outer space means astronauts need to be careful while washing hair to avoid droplets of shampoo flying into the air.
The Japan Aerospace Exploration Agency (JAXA) solicited proposals for new ideas to meet challenges faced both living in space as well as on Earth. The expertise gained in developing these products will have applications on Earth as well during times of disaster, hospital stays and in regions experiencing water shortages.
Kao's Space Laundry Sheets are non-woven fabric sheets that can clean clothes without water, removing dirt, stains and odors. The sheets provide cleaning power equivalent to washing clothes in a washing machine with detergent.
Kao's 3D Space Shampoo Sheets are non-woven fabric sheets with an uneven, three-dimensional shape for cleaning hair. The raised bumps wipe away dirt and sebum from the scalp and roots of the hair. The sheets do not need water and provide a clean scent and massaging action for the scalp and hair.