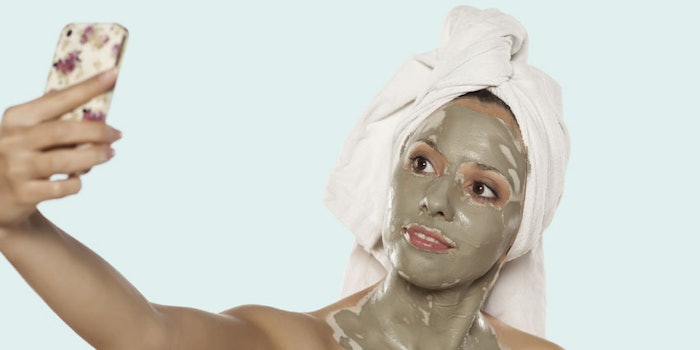 In the world of online ratings and reviews in 2017, face was up, body was down and everyone loved masks. Influenster's (www.influenster.com) insights team set the stage by analyzing more than 1 million organic, non-incentivized skin care reviews written by members on the Influenster site and app from January 1 to December 31, 2017, and conducted custom research with more than 11,000 members about their daily skin care habits.
As the digital destination where millions of consumers research and review products, Influenster is well-positioned to reveal the top skin care products that consumers are buzzing about across luxury, drugstore and indie retailers based on organic review activity on the platform.
4 Things Buzzing in Facial Skin Care
Last year occasioned a marked increase in non-incentivized facial product reviews compared to 2016 (F-1). The two key drivers of this uptick were 1) growth in reviews across emerging formats including masks, oils, mists, serums, toners and cleansers, and 2) growth in reviews across products that are distributed in the luxury and indie channels. However, not all facial skin care formats grew. The formats that experienced a decline in reviews included moisturizers, facial sunscreen and wipes.
1. Indie Brands
Within the facial skin care category, indie productsa saw a remarkable 659% growth in review volume in 2017, compared to 2016. Almost all formats across indie face grew, with face masks leading the charge as the most-reviewed indie format. Lush, with its ingredient- and scent-forward formulas, led the charge by dominating the top 10 product spots for total review volume in that category.
2. Face Oils
Face oils was a noteworthy format to emerge, with Sunday Riley and Drunk Elephant driving review growth with playful and colorful packaging, super-premium price points, and active anti-aging ingredients designed to appeal to skin care junkies of all ages.
3. Luxury Brands
Luxuryb facial skin care experienced review volume growth of 101% in 2017, compared to 2016. The top luxury review-drivers were iconic favorites such as Mario Badescu Facial Spray with Aloe, Herbs & Rosewater, and Tarte Pure Maracuja Oil, while luxury makeup removers experienced an overall decline in reviews in 2017, compared to 2016. This decline could be attributed to the rise in oils and balms, as well as other cleansing and clarifying formats.
4. Cleansing Mass Brands
Mass face skin care experienced a 7% increase in review growth in 2017, compared to 2016. The top products in review volume in this category have cleansing as opposed to moisturizing benefits.
Cleansers were the most reviewed format in 2017, with masks taking second place; on the reverse trajectory, makeup wipe and makeup removers were on the decline. And, unsurprisingly, most of the top mass masks in review volume have cleansing benefits.
Summary: Top Trending Facial Skin Care
Bottom line on trends in organic reviews on face skin care: masks, oils and toners in the indie and luxury channels drove review growth in 2017, with Lush, Sunday Riley, Mario Badescu, Tarte and Neutrogena inspiring consumers to post about their products on Influenster.
Decoding Body Skin Care's Declines
Unlike face skin care reviews, non-incentivized reviews on body skin care on Influenster declined in 2017 (F-2), driven by mass, which is the largest channel in the category. All drugstore body brands, except Shea Moisture, declined in review count in 2017, compared to 2016. As with facial skin care, none of the top review-driving mass body products, such as Dove Beauty Bar and Vaseline Jelly Original, are new innovations.
Luxury and indie brands, which are comparatively smaller in body than they are in facial skin care, showed a similar rate of decline.
Focus on Under-served Bodily Areas
There are bright spots, however. Belly balms, which include products like Palmer's Cocoa Butter Formula and Maderma Stretch Marks Therapy, represent a small but growing bright spot in mass body skin care.
There are also game-changing body care brands such as Sol de Janeiro, which experienced a surge in buzz because of its focus on Brazilians' favorite body parts—butt, feet and body hair—which consumers (and brands) don't usually talk about.
Bath Time Opportunity
When the generations of consumers are dissected, it turns out that Gen Z buzzed more about skin care in 2017, compared to 2016, while body skin care chatter amongst Gen X and Gen Y went down. Gen Z's uptick in interest may be attributed to its selfie game in the bathroom, and the generation's love for showing off bath time rituals on social media (F-3).
Body Skin Care Category Ripe for Disruption
We were curious about the decline in non-incentivized body skin care reviews and wanted to know if it reflected consumer behavior, i.e. a shift away from use of the traditional body formats. To that end, our insights team surveyed 11,000 members about their bathing habits.
Almost half of the consumers surveyed shower six to eight times a week, and 90% of them use body wash (over shampoo, bar soap and body scrub). As for the products that they use regularly when they take a bath, bath bombs (55%) are the top choice, followed by bubble bath (43%), bath salts (41%) and soaks (27%). Sixty-five percent of those surveyed moisturize after bathing or showering.
Based on these findings, our hypothesis is that consumers may be still using body care products, but that the body category is becoming more commoditized, and consumers are less inspired to create and share content around body skin care.
We also hypothesize that the consumer may be shopping outside the skin care aisle for skin care solutions, for example using the coconut or other plant oils from the grocery store as topical skin moisturizers and treatments.
3 Skin Care Takeaways
1. Consumers perceive face and body differently: face reviews were up, driven by masks and face oils in the indie and luxury channel; body reviews were down, driven by bar soap, body wash and lotion in the mass channel.
2. Fun, colorful products targeting younger women drove buzz across all channels, price points and formats (F-4).
3. It's hard to beat an icon: the top review-driving products in each category were cult favorites rather than new innovations (F-5).
Footnotes:
aInfluenster defines "indie" as brands or products not owned by large cosmetics companies and which have not launched at major retail channels.
bInfluenster defines "luxury" as a product or brand that has launched in a distribution channel that is not a mass, food or drug retailer.
Susanna Goldfinger is the director of insights at Influenster (www.influenster.com), a product discovery and review platform.