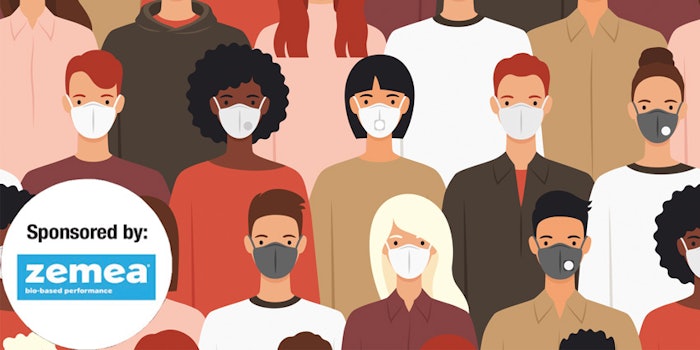 The COVID-19 outbreak has put hygiene, safety and health front-of-mind for global consumers. Of course, safety was always the leading claim associated with the "clean" beauty movement. But now, amid a global COVID-19 pandemic, that key pillar is front-and-center at the crossroads of hygiene and wellness. This shift in mindset could have repercussions for the clean movement, from ingredients and claims to packaging.
Mintel's Clare Hennigan recently noteda, "COVID-19 is impacting the way consumers approach beauty and personal care (BPC) products, especially when they consider ingredient safety, cleanliness and shelf life."
As the world slowly adjusts to the "new normal," consumers seem to have only one thing on their mind: stay safe and hygienic. According to research from Nielsen Basesb, consumers now believe that product claims focused on killing germs, providing immunity and overall health promotion are more relevant than claims around naturalness, sustainability, quality and brand.
In addition, Nielsen Bases Quick Screen research identified the top five product benefits that consumers are willing to spend more for during the COVID-19 (coronavirus) pandemic:
Protects family against germs and bacteria
Kills germs and bacteria in an effective way
Kills germs and bacteria in a natural way
Keeps my immune system strong
Keeps my family safe from diseases
One might wonder whether this could signal a decline in elements of the clean beauty trend, including sustainable sourcing, fewer ingredients and an emphasis on naturals. Not necessarily.
Consumers are still seeking clean and sustainable beauty—but they're also looking for reassurance that brands will deliver the efficacy, product integrity and safety they expect. At the same time, while near-term concerns will lead to a rise in single-use and throwaway formats, longer-term, consumers will ultimately expect brands to keep them safe and to sustain the planet. Read on to see how this category might evolve in the wake of COVID-19.
Prevention is Self-care
IRIc recently presented data for the week ending March 22, 2020, showing that while most product categories in the United States saw average basket sales gains, personal care and cosmetics sales declined year-over-year, illustrating the rapid refocus on must-haves.
Conversely, during the same period, sales of wipes grew 121% year-over-year, while liquid hand soap grew 198%, hand sanitizers grew 184% and vitamins grew 77% (see Page 44 for more on the ingestibles category). IRI-surveyed consumers reported that they take vitamins (57%) and practice good personal hygiene (71%) as part of their self-care practice.
It's no surprise, then, that the company found that, "Preventive health care products, like immunity, are trending higher than symptomatic products, as consumers look first to prevent illness. Cleaning products and hand sanitizers/soap [are] also important to consumer self-care practices."
Trending Ingredients & Claims in a Pandemic
Recently, Spated uncovered the latest cosmetic ingredients trending on Google (February-March 2020). These included an array of hygiene-/safety-related materials:
ethyl alcohol
carbomer
aloe vera
chloroxylenol
thymol
Spate's Yarden Horwitz has explained that many of these searches stemmed from consumers seeking DIY ingredients—including aloe vera—to make hygiene products at home, as well as shopper interest in the function and origin of key materials.
Among the trending claims Spate highlighted from Google search data included:
purifying
disinfectant
antiseptic
antioxidant
Pivoting in a Crisis
The perception of "clean personal care" has immediately transformed to include the concept of literal cleanliness—"sanitary," "disinfected" and similar terms come to mind. One of the first and most prominent ways that the personal care industry rallied in the face of COVID-19 was by pivoting to production of hand sanitizers for frontline workers and the public. From behemoth beauty brands like Estée Lauder and LVMH, down to indie favorites like Megababe and Sia Botanics, companies added hand sanitizers to their product lines without skipping a beat—and many of them added a philanthropic component, too.
L'Oreal switched some production lines in its factories to yield hydroalcoholic gel and donated 1 million euros via the L'Oreal Foundation toward European organizations helping those devastated by COVID-19, while Orly donated the first batch of 10,000 hand sanitizer units to the city of Los Angeles to serve its homeless population.
Already the gold standard in hand sanitizers, Gojo—the makers of Purell—and Lubrizol, which supplies the sanitizer's key thickening ingredient, Carbopol polymer—partnered to donate nearly 65,000 bottles of Purell to local hospitals in their Northeast Ohio region.
"Both of our organizations feel a deep sense of responsibility to serve our local communities where so many of our employees work and live," says Lubrizol president and CEO Eric Schnur. "Just like Gojo, we are being called upon during this critical time to increase production to meet the unique demands of this environment, and our employees are rising to the challenge."
Fragrance suppliers that can specialize in these kinds of products are also performing the necessary heroics.
"The entire hygiene and disinfectant industry is booming because of this COVID pandemic, so we have received a lot of requests for fragrances that fit into those fields," says Julie Movsessian, director of marketing, Sozio. "Sozio offers specific fragrances that are stable in the difficult bases of the hygiene and home care products. Sozio also has also some EPA-registered fragrances that are required for disinfectant products."
Packagers are shifting into overdrive to meet the needs of hand sanitizer demand as well.
"We are seeing an enormous increase in labels and shrink sleeves for hand sanitizers and disinfectant wipes," says Don Earl, president of Overnight Labels. "You cannot use just any ink and any material for these products. We've been in business 30 years and have expertise in knowing what materials to use that are durable and can withstand the high alcohol content in these products."
Josh Kirschbaum, CEO of WWP, agrees: "We have seen many brands, both large and small, looking for more hygienic products like hand sanitizers, that would normally fall outside their typical offering, so that all of their customers could have more access to these types of products. We have remained a reliable partner for brands looking to get these types of products on the market quickly."
The Cost of Cleanliness
Hand sanitizers and extra hand washing are of the utmost importance to consumers, but there can be some side effects of these practices: dry skin, chapped hands, damage to the nails and more. As such, some brands and suppliers are renewing their focus on counteracting the damage incurred by the disinfection process.
"We can anticipate that consumers will seek out products that help nourish, heal and regenerate hands' skin," explains Elena Canadas, global marketing director, Lubrizol Life Sciences Beauty. "Hybrid products that provide a sanitizing effect while also moisturizing and nourishing the skin will be the next step in this category."
Gloves in a Bottle, a shielding lotion long favored by healthcare workers, is exactly the kind of product poised to see more mainstream consumer appeal. According to the company, the lotion acts as a defense to reverse the damage of oversanitizing and bonds to the outermost layer of skin cells, allowing the skin to breathe and perspire naturally. Notably, its original formulation comprises just 12 ingredients: water (purified), dimethicone, stearic acid, glycerin, cetearyl alcohol, isopropyl myristate, stearyl alcohol, triethanolamine, xanthan gum, hydroxypropyl methylcellulose, VP/eicosene copolymer, steareth 21, and phenoxyethanol (preservative).
"It is vital that we all continue to wash our hands to keep this virus from spreading; however, we cannot expose ourselves, by destroying our skin's natural defense mechanism with overwashing," says dermatologist Dr. Wayne Weber. "So, as an extra step, we highly recommend adding a protective hand cream."
Providing the right ingredients to increase a sanitizer's or soap's soothing factors without lessening efficacy will be attractive to brands and consumers.
"Stepan offers a wide range of safe, mild cleansers for products such as hand soaps as well as natural moisturizers for lotions and creams to help soothe frequently washed hands," says Sarah Kovach, North America personal care market manager, Stepan Company. "One of Stepan's newest ingredients, StepanQuat Helia, is a hypoallergenic conditioning agent that is suitable for both hair and skin products, and pairs well with natural oils in a formulation."
Natural Hygiene Interest on the Rise
Recently, Rachel Grabenhofer, managing editor of Cosmetics & Toiletries magazine, wrote, "Natural extracts tend to exhibit antimicrobial and antibacterial properties, thanks to innate plant defenses. Importantly, they are not approved for these uses by most regulatory bodies. [Instead], these ingredients have been leveraged for skin care activities, for fragrancing effects, as alternative preservatives and more. But, according to suppliers, demand for them has risen [due to] their natural origin; natural products consumers are now Googling which of these extracts and oils have effective antiseptic and antibacterial benefits."
Grabenhofer explained that this was likely exacerbated by the peak demand for conventional hand sanitizers, which were particularly difficult to obtain in the U.S. market in March.
There is emerging researche regarding the antimicrobial activity of extracts, including pomegranate (Punica granatum), clove (Syzygium aromaticum), ginger (Zingiber officinales) and garden thyme (Thymus vulgaris), against harmful organisms such as Bacillus cereus, Staphylococcus aureus, Escherichia coli, Pseudomonas aeruginosa and Salmonella typhi.
Conventional Chemistry's Revival
The term "safe synthetics" has long been tossed around in beauty marketing related to the "clean" category, embracing the power of conventional chemistry and rightly decoupling the concepts of natural origin and safety. Now, with even some of the greenest consumers reaching for rubber gloves, Clorox wipes, sanitizers and industrial cleansers, the benefits of conventional chemistry are finally being given a moment to shine.
Prior to COVID-19, natural consumers avoided preservatives and artificial ingredients in beauty and personal care products. However, in a recent analysis, Mintel's Claire Henniganf predicted that with more concerns surrounding shelf-stability and sanitation across consumer packaged goods categories, consumers will be more willing to accept these ingredients as long as brands provide evidence of efficacy and safety, both from a health and environmental perspective.
Furthermore, Hennigan stated that the arrival of the novel coronavirus will further push the notion that natural isn't always better, especially when it comes to ingredient safety and shelf life. The future of clean ingredient formulations will rely on safe synthetic ingredients, which may improve shelf life.
The movement for safer, more eco-friendly and shelf-stable formulations opens new opportunities for brands to use waterless formulas, Hennigan argued. Products of this sort reduce the need for preservatives and give consumers the ability to control the shelf life on their own, she wrote.
An analysis from HatchBeautyg concurred, noting, "Products that are shelf-stable and long-lived are in demand as consumers are stockpiling staples in anticipation of state or self-imposed quarantines. This practice opens the door to a broader, more prolonged shift that could give new life to products across all industries and categories that promise a long shelf life. In beauty, expect to see phrases like 'natural' and 'organic' compete with stable formulas that have an extended expiration and better lifetime performance."
Clay Detox Opportunities?
As seen in the case of hand sanitizers, there is a constant tension between hygiene and skin health, particularly the integrity of the skin barrier and balance of the microbiome. In a recent analysis, Mintel's Marcia Mogelonskyh noted that "'effective cleansing' creates an opportunity for cleanse-moisture combination products that help keep the skin barrier healthy and clean while they disinfect." Ingredients such as charcoal and clay offer these qualities, she added.
As seen in charcoal-infused toothbrushes, charcoal offers antimicrobial activity. Its inclusion in products such as masks and hair care could potentially boost appeal for consumers seeking safe, natural solutions.
Similarly, clays offer natural antimicrobial efficacy. One studyi found that blue clay kills E. coli and S. epidermidis germs, while white clay is moderately effective against the same organisms.
Safe & Clean Packaging
Packagingj and tools will play a key role in the new clean and safe dynamic. Keeping products clean and safe will help spur the demand for "touchless" beauty products—i.e., spray and stick formats, according to Hennigan's analysis. She also encouraged brands to offer consumers tips and tricks for cleaning auxiliary BPC products without compromising product efficacy and safety.
Consumers are understandably hypervigilant about the products they touch while in store, and even those delivered to their homes. As such, there is concern about packaging and dispensers. Savvy suppliers are well-equipped to address these concerns head-on.
"Some clients have discussed having a total purity package," says APC Packaging CEO Lisa Lin. "From sustainable materials and clean formulations to a protective barrier that helps keeps the entire package pure and free of bacteria and viruses. APC Packaging has been working in conjunction with a partner to come out with an additive for polyolefins first, which will create this barrier and kill coronavirus strains."
"We have received many requests for single-use face masks as well as other skin care products and body care," says Erma Estrella, senior director, product sales and development, HCT Packaging, "People have been interested in airless systems and components that have hygienic dispensing and full evacuation of the product."
Recently, Pylote and Asquan announced the launch of a range of makeup brushes that integrate Pylote's natural antimicrobial protection technology, which has been successfully tested against coronaviruses. Testing is currently underway on the partnership's other cosmetic tools, including mascaras, eyeliners, lip liners and skin care applicators.
According to the companies, the brushes and other tools would not require typical maintenance and disinfecting during their entire period of use, which offers peace of mind while reducing the ecological footprint from discarded tools.
The Pylote technology's effectiveness on coronaviruses was studied in May 2020 through an independent laboratory (Fondation pour le Développement et la Recherche Pharmaceutique) with a COFRAC (Comité Français D'accréditation) certification, according to the requirements of the JIS Z 2801 standard adapted for human coronavirus strain 229E.
Surfaces activated by Pylote technology were compared to control surfaces of the same nature but without the technology. The results showed a logarithmic reduction in the viral load on the surfaces of 3.9 log after 24 hours, corresponding to disappearance of almost 99.99k of the infectious virions.
Hygiene aside, clean beauty is still, to consumers, clean beauty—and that still has a focus on sustainability. While consumers may not be currently as keen on refilling and reusing products, a package's recyclability factor has not become any less attractive.
Estrella notes, "We are showcasing our Eco Modern Approach packaging that has gained a lot of interest from our customers because of its recyclability and sustainability aspects."
Clean & Safe Ingredients
As the world begins to turn the corner on the pandemic, formulators are showing the consumers can have it all in their beauty faves: ingredients that offer both benefits to the planet and health protections to the consumer (see Page 26). For instance, Evonik's Dr. Straetmans product portfolio utilizes both traditional and alternative preservative chemistries for beauty products.
"Through this product platform, brands have been able to achieve effective microbial control in their formulations, including with more natural, clean preservatives," explains Arnoldo Fonseca, marketing manager, nutrition and care, Evonik. "More broadly, Evonik has been gradually tilting its product offerings toward more sustainable, cleaner chemistries that nonetheless deliver product performance. I suspect these characteristics will resonate with a post-COVID-19 consumer."
Says Ingrid Chirico, distribution partner manager, schülke inc., "Our new clean and green products carry on our tradition of safety and efficacy. Euxyl ECO 910 combines lemongrass oil with benzyl alcohol to provide the efficacy of more traditional preservatives. It is COSMOS approved and Ecocert verified. And, Effisin LA natural is derived from non-GMO corn and is effective against bacterial contamination."
Tate & Lyle's Texturlux bio-based specialty polymers for skin, hair and sun care offer thickening, emulsion stabilization and film-forming benefits in skin creams, lotions, gels, serums, hair products and other personal care formulations.
"These products are very easy to incorporate into formulations, provide exciting benefits and allow the formulator to incorporate more bio-based content into their formulations," says Jessica Allen, the company's primary products director of business development.
These products provide rheology, aesthetics and stability without being sticky or tacky. They are also particularly suited for sulfate-free formulations.
"They work very well with common ingredients used in personal care formulations, can replace synthetic or other natural polymers, and can be stirred directly into emulsions," says Meggan Hostetler-Schrock of Tate & Lyle's technical service department. "Our range gives the formulator new tools to create improved and innovative bio-based personal care products."
"Consumers continue to demand the same sustainability standards in products they put on their bodies as what they put in their bodies," says Allen. "As a result, we have developed a new range of products that not only deliver on efficacy and sustainability but also provide the luxurious feel of products that keeps consumers coming back for more."
Finally, what will keep brands strong in the coming months, is what has kept them positive all along, despite the challenges of the pandemic: strong relationships with their suppliers.
"Our company is looking forward to the future on how we can help support our customers' growth after these difficult times," says Kirschbaum. "We are ramping up innovation and design in areas of the packaging market that we have forecasted to have higher demand post-pandemic, so that we are ready to support the needs of our customers when they are ready to get business going again."
Doing More with Less
In the coming months and years, when it comes to the clean beauty crowd, one can expect the trend of simplification to continue.
"During this pandemic, some consumers have been 'skin fasting' or minimizing their beauty routines," says Kate Drummond, head of marketing, personal care, North America, BASF. "We offer a range of multifunctional ingredients, which allow brands to highlight benefits and claims without making the ingredient list longer."
She adds, "Simple ingredient lists are also important to sensitive skin consumers which, according to recent studies, make up about half of the population. These consumers look for mild and gentle ingredients that will be just as efficacious. Our portfolio includes many natural and/or gentle ingredients, such as our Plantaren range of plant-based surfactants, that are ideal for sensitive skin formulations."
Cost-conscious Clean
Clean beauty has gone mainstream in recent years, spurring greater innovation in mass and masstige launches. A pandemic-stricken economy will only accelerate this evolution, creating opportunities for value-focused brands.
Mintel's David Tyrrell recently explainedl, "U.S. mass retailers and Amazon are embracing the clean concept by initializing and executing on their own clean brands … Once exclusive to specialty retail, clean beauty has extended across all retailing sectors, including large drugstores and grocery."
For example, Amazon has boosted its credibility by featuring clean beauty brands in its Indie Beauty Shop, while supporting indie launches with its Amazon Accelerator. Target, meanwhile, hosts the Target Clean program to signal safe choices to consumers, while Walmart has promoted "mindful beauty" and introduced a private label brand, Earth to Skin, with clean beauty credentials. Even CVS offers a free-from program, Beauty 360, and has banned octinoxate and oxybenzone from CVS Health-branded sunscreens. n
Footnotes:
awww.mintel.com/blog/beauty-market-news/covid-19-increases-demand-for-safe-and- reliable-bpc-products
bwww.nielsen.com/us/en/solutions/capabilities/bases/
cwww.iriworldwide.com/IRI/media/Library/COVID-19-Thought-Leadership-4-3-2020.pdf
dwww.spate.nyc
eAshraf A. Mostafa, Abdulaziz A. Al-Askar, Khalid S. Almaary, Turki M. Dawoud, Essam N. Sholkamy and Marwah M. Bakric, "Antimicrobial activity of some plant extracts against bacterial strains causing food poisoning diseases," Saudi J Biol Sci., Feb; 25(2): 361–366 (2018)
fwww.mintel.com/blog/beauty-market-news/covid-19-increases-demand-for-safe-and-reliable-bpc-products
g"Here + Now: Beauty in a Post-COVID-19 Economy," www.hatchbeautybrands.com
hwww.mintel.com/blog/consumer-market-news/covid-19-pandemic-here-and-now-how-consumers-and-industries-are-reacting-in-the-us
iwww.sciencenewsforstudents.org/article/clay-new-way-fight-germs
jFor a deep dive on safe packaging, see: "Coronavirus Impact Series: Packaging," http://gcimagazine.texterity.com/gcimagazine/june_2020
k1 log = 90% of viruses destroyed - 2 log = 99% - 3 log = 99.9% - 4 log = 99.99%
l www.mintel.com/blog/retail-market-news/us-mass-retailers-and-amazon-promote-affordable-clean
Lisa Doyle was formerly the associate editor of Global Cosmetic Industry and is a freelance writer in the Chicago area. Her work has also appeared in Skin Inc., Salon Today, Modern Salon, Master Barber and Writer's Digest.
For an overview of clean and hygienic ingredients, check out Global Cosmetic Industry's July/August issue.