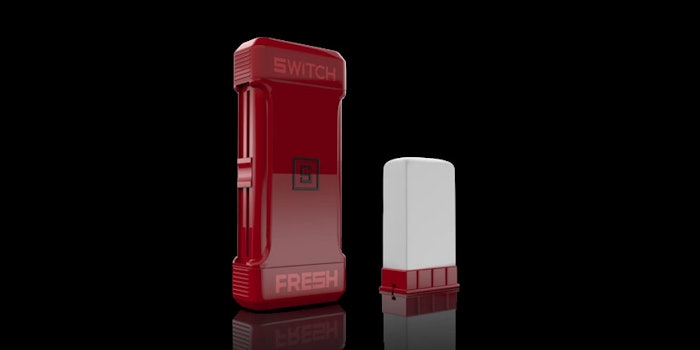 If you've ever been frustrated with the waste created by traditional deodorant sticks, a new company is attempting to turn the deodorant world on its side. Switch Fresh: Eco-friendly Refillable Deodorant features gliders on the side of each bottle which allow users to move the product as well as attach and detach the deodorant cartridges. The cartridges come in 2.5-ounce and 5-ounce sizes, and the deodorant has received 5 percent of its $40,000 funding goal from the crowdsourcing site Indiegogo.
"Switch Fresh is the world's first replaceable deodorant that reduces plastic waste and inspires individuality with unisex scents and personalized designs," according to the company's Indiegogo page. "This patented deodorant bottle utilizes replaceable deodorant cartridges and reduces the amount of disposable waste by 96 percent, compared to traditional deodorant bottles. Our unique design is an eco-friendly alternative to the 800 deodorant bottles the average person will dispose of in their lifetime."
The deodorant market contributes 4 percent to the overall U.S. cosmetics market, with an expected compound annual growth rate of 5.6 percent from 2014 to 2019, according to a 2015 report in Research And Markets. Will Switch Fresh roll over the competition?