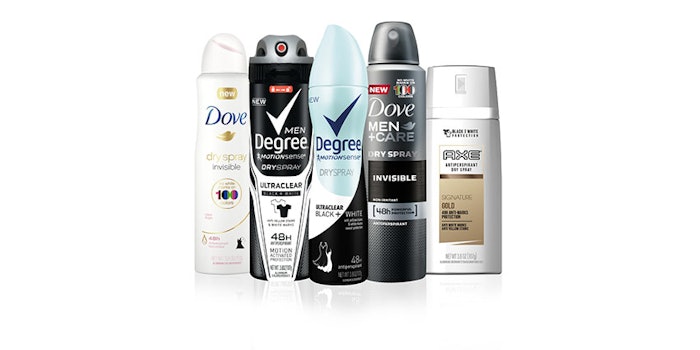 Unilever will feature its new proprietary formulation of Dry Spray with Anti-Marks Antiperspirant Technology across five brands: Degree Men, Degree Women, Dove, Dove Men+Care and AXE. The technology is designed to provide 48-hour odor and wetness protection while eliminating the yellow discoloration of clothing that can sometimes occur from a mixture of skin oil, sweat, laundering and the deodorant itself.
"People are tired of unintentionally ruining their favorite white T-shirts or leaving behind embarrassing marks in the dressing room," said Matthew McCarthy, Unilever Senior Director of Deodorants and Men's Grooming. "We're proud and excited to deliver this innovation to the marketplace and provide a real solution for shoppers."
Unilever's Dry Spray with Anti-Marks Antiperspirant Technology is currently available in some global markets, but is now being unveiled in the United States. The new formula has been incorporated in 24 variants and will be on shelves at food, drug and mass retailers nationwide starting December 2016.