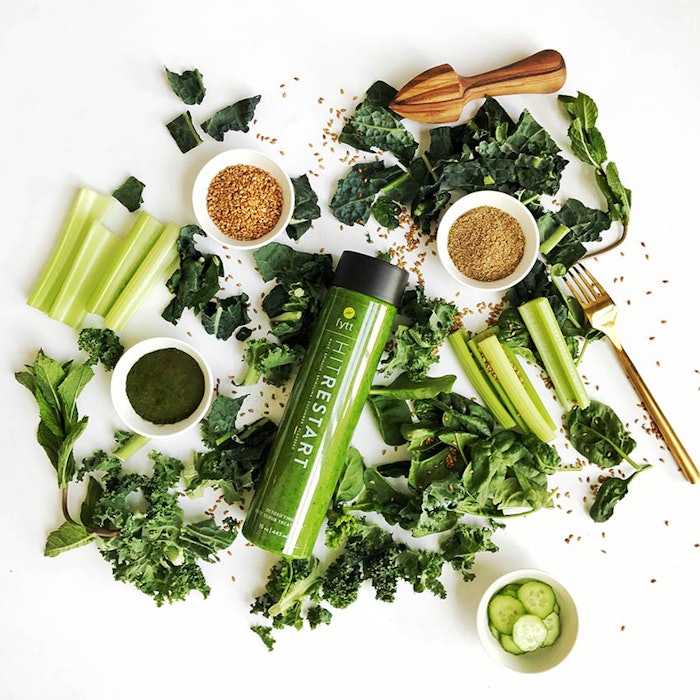 Wellness has been driving a wide range of beauty and personal care concepts. Now, Fytt, a new skin care brand that takes its inspiration from the juicing trend and seeks to bridge skin care and wellness, has introduced the Green Juice Body Scrub Treatment Collection, comprising the Hit Restart Detoxifying Body Scrub Treatment ($54, 15 fl oz/443 ml; available at FyttBeauty.com), Gain Strength Antioxidant Body Scrub Treatment (coming soon) and Boost Energy Energizing Body Scrub Treatment (coming soon).
Hit Restart offers a "detox blend" containing USDA-certified organic kale (for nourishment with vitamins A, C and K), spinach (for antioxidant-powered environmental protection, spirulina (B complex vitamins for skin revitalization), cucumber (anti-inflammation components such as vitamin C and beta-carotene) and flaxseed (minerals for cleansing and detoxification).
The blend, which is recommended for use two to three times a week, exfoliates, detoxifies and nourishes for smoother, softer, firmer, more vibrant skin, according to the brand. The product's texture evokes its juicing concept and packs a mint-cucumber fragrance.
The Gain Strength Antioxidant Body Scrub Treatment comprises beets, berries and kiwi, while the Boost Energy Energizing Body Scrub Treatment contains ginger and carrot.
"Being in the industry for more than a decade, we know that many skincare products in the marketplace boast trendy ingredients and are short-term solution-oriented," said Founding Partners, Kellie Chen and Kevin Vu. "They're not focused on the essential nutrients your skin needs to stay fundamentally healthy in the long-term."
As part of its mission to deliver nutrition to the skin, Fytt has unveiled its 10-Free No Toxins Promise, which excludes parabens, SLS and SLES, propylene glycol, mineral oil, PEGs, triclosan, DMDM hydantoin, DEA, TEA and MEA, BHA, and synthetic fragrance.
The brand is also extending its mission by providing healthy lifestyle-oriented content via its Fytt blog and social media feeds.