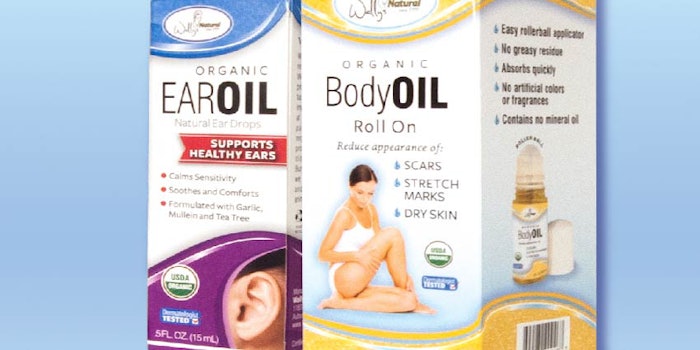 Wally's Natural has launched its USDA Certified Organic on-the-go Body Oil Roll On ($9.99), which is dermatologist tested and reportedly improves the appearance of scars, stretch marks and aging skin. The quick-absorbing formulation leaves no greasy residue and is free of mineral oil, making it ideal for moms-to-be and other green consumers who are prone to reading ingredient labels. 
The Organic Body Oil Roll On's ingredient highlights include sesame, chickweed and calendula oils. The SKU retails at Walmart, Whole Foods, GNC, select beauty shops and the brand's own site; the SKU was recently approved for CVS.
Wally's Natural was born in the natural product channel, but now widely retails in drug stores and other retailers. Its largest retail partner is Walmart.
The company's signature product is the ear candle and oil, which can be used hand-in-hand to calm and relax consumers. The candle has a filtered tip to prevent wax spillage. The products have a strong following in the spa channel, Latin America and an emerging audience in markets such as Dubai, according to the company. Future launches from the brand may include ear scrub products for kids, as well as an expansion into Safeway.