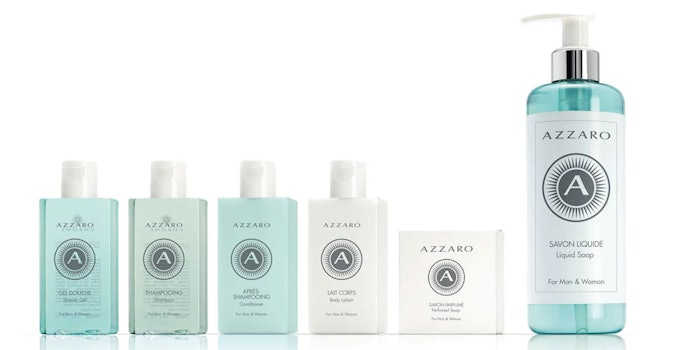 Azzaro, created in 1967 by Italian-French fashion designer, Loris Azzaro, recently released newly designed packaging for the Groupe GM amenity line.
The new packaging is inspired by the Mediterranean lifestyle, according to Laurent Marchand, president of Groupe GM. He explained, "we are very excited to renew our long-term partnership with Azzaro, and to offer this new and unique range to our clients. Guests will treat themselves with the exceptional quality that Azzaro promises to deliver."
Following the new overall retail branding of Azzaro, the amenity line uses a simple, yet elegant text to match the interior of bathrooms in prestigious establishments. The collection still features Azzaro's signature Chrome fragrance for its shampoo, conditioner, shower gel, bar soap and body lotion.
The products are in new 45ml bottles (larger than the previous line), and uses a flip top cap. The bar soap also has been redesigned with a new shape and engraving in either 30g or 50g. The line also features a 300ml liquid soap and all over shampoo in an updated Eco pump bottle.