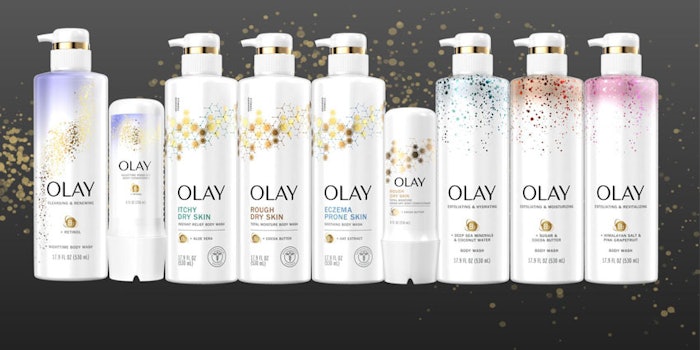 Olay has debuted three premium body care collections: Olay Cleansing & Renewing Body Care Duo with Retinol; Olay Premium Exfoliating Body Wash Collection; and the Olay Dermatologist Designed Collection.
Previously: Better Shea Butter's Solid Butters Moisturize, Minimize Marks on Body
The Cleansing & Renewing Body Care Duo features The Retinol Body Wash, which is said to improve skin three times better than the leading body wash and transforms skin from dry and stressed to bright and smooth.
The Rinse-Off Body Conditioner with retinol is a sheer conditioner that provides concentrated moisture that works overnight to help stop dry skin before it starts.
The Exfoliating Body Wash Collection gently removes dead skin cells and replenishes skin's natural moisture barrier to leave skin feeling smooth and renewed. The collection includes:
Moisturizing with Sugar & Cocoa Butter
Hydrating with Deep Sea Minerals & Coconut Water
Revitalizing with Himalayan Salt & Pink Grapefruit
The Dermatologist Designed Collection features ingredients such as aloe vera, cocoa butter and oat extract to help relieve and visibly improve skin. 
The body washes are approved by the Skin Health Alliance, and the body wash for eczema-prone skin has also been awarded the Seal of Acceptance from the National Eczema Association.
Products in the Dermatologist Designed Collection include:
Body Wash for Itchy Dry Skin with Aloe Vera
Body Wash for Eczema Prone Skin with Oat Extract
Body Wash for Rough Dry Skin with Cocoa Butter
Rinse-Off Body Conditioner for Rough Dry Skin with Cocoa Butter
Selina Phillips, senior brand director for Olay Body, said: "Olay is redefining body care with our latest innovations—our Retinol Duo, our Premium Exfoliating Body Wash Collection and our Dermatologist Designed Collection. We continue to elevate the body care category by offering curated solutions to transform skin, no matter the skin type so women can feel fearless in their skin."