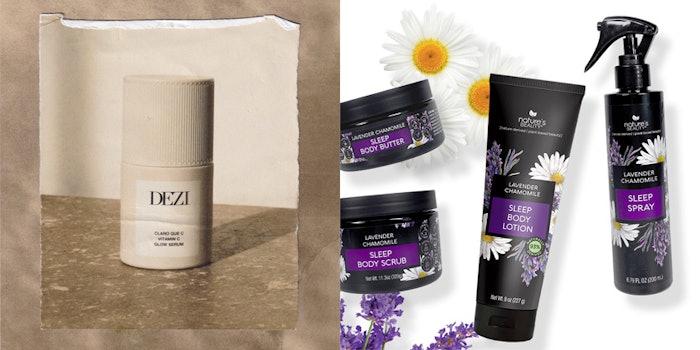 Dezi Skin and Nature's Beauty have launched new skin and body care items, respectively. 
Related: Olay Debuts Premium Body Care Collections
Dezi Skin
Dezi Skin, from YouTuber and beauty influencer Desi Perkins, has launched its brand with the debut of its Claro Que C Vitamin C Glow Serum.
The serum is said to fight the effects of free radicals, reduce the appearance of fine lines and wrinkles, as well as reduce the appearance of dark spots and uneven skin tone.
Claro Que C is made with 15% pure vitamin C infused into the water and oil phases of the serum. It is made without fragrance, parabens, tricolosan, gluten, and is cruelty-free and vegan.
Other ingredients include: tetrahexyldecyl ascorbate (THD), high-purity ethyl ascorbic acid, DP-C, green plum, and Dezi Youth Juice, a blend of Mexican plum fruit, dragon fruit, acai berry, tamarind, mango, soursop, guava and avocado extracts.
Nature's Beauty
Nature's Beauty, a clean vegan line of bath and body care, has announced the launch of aromatic collections that focus on sleep, detox, and stress relief.
The three collections offer a range of cleansing, exfoliating and moisturizing products available in stores nationwide at Walgreens and online at Walgreens.com and NaturesBeautyBrands.com.
Stress Relief features products that combine elderberry extract and eucalyptus oil with the aroma of spearmint and bergamot citrus. The collection incorporates shea butter, avocado oil and sweet almond oil to help nourish, protect and repair dry skin.
The Stress Relief Collection includes:
Elderberry Eucalyptus Stress Relief Body Scrub

Elderberry Eucalyptus Bath and Body Wash

Elderberry Eucalyptus Stress Relief Body Butter
Detox is infused with orange and ginger extract to purify and improve skin tone and texture with notes of citrus and woody patchouli. Sunflower, almond and avocado oil work to nourish and moisturize skin.
The Detox Collection includes:
Orange Ginger Detox Bath Bombs

Orange Ginger Body Scrub

Orange Ginger Bath and Body Wash

Orange Ginger Detox Body Lotion
Sleep combines lavender and chamomile with the aroma of powdery vanilla and orange citrus. Key ingredients include jojoba, coconut, and moringa seed oil to nourish and moisturize dry skin.
The Sleep Collection includes:
Lavender Chamomile Sleep Bath Bombs

Lavender Chamomile Body Scrub

Lavender Chamomile Sleep Bath and Body Wash

Lavender Chamomile Sleep Body Butter

Lavender Chamomile Sleep Spray
The new collections utilize recycled plastic (post-consumer resin [PCR]) for all product bottles, jars and tubes. All 2021 Nature Beauty packaging will also utilize CleanFlake label technology to promote full recycling capabilities.