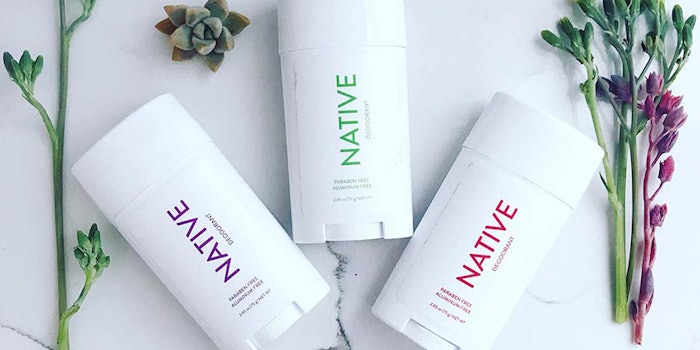 @nativecos/ via Facebook.com
Better-for-you personal care brand Native has expanded into brick & mortar with its arrival at Target stores.
Since its 2015 launch of Native Deodorant, the company—which established itself with a direct-to-consumers sales model—has sold more than 1 million deodorants online.
In an effort to increase availability, the brand has launched in all of Target's more than 1,800 stores. Initial offerings include its aluminum- and paraben-free deodorants for men and women, including coconut & vanilla, lavender & rose, cucumber & mint and eucalyptus & mint, as well as a Target-exclusive jasmine & cedar.
"When picking a retail partner, we were incredibly selective," said Native CEO Moiz Ali. "We wanted a partner that had experience with niche brands that had cult-like followings, but were also mindful of the customer experience and shared our commitment to making better-for-you personal care products accessible to all."
Related: Indie Beauty: Retail Savior?