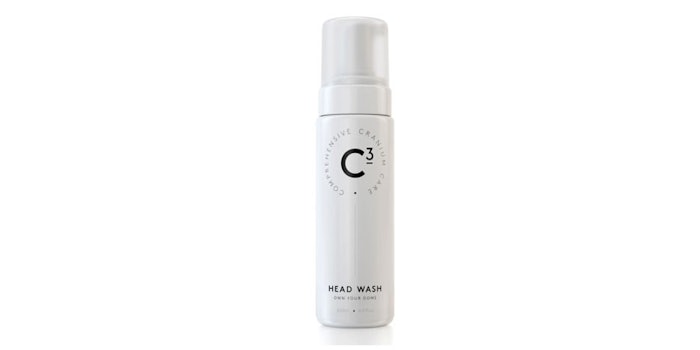 Comprehensive Cranium Care (C3) offers male and female consumers a line of products formulated for bald, shaved and buzzed heads. 
C3's Head Wash was "designed specifically for the bald dome" and can be used for daily cleansing of the head, face, neck and beard. Head Wash is meant to leave skin feeling hydrated and replenished. The foam is available in both Original Fragrance and fragrance-free options. Per C3, the product is neither shampoo nor conditioner. 
Ingredients include purified water, myristamidopropyl PG-dimonium chloride phosphate, propanediol, PPG-2 hydroxyethyl cocamide, natural fragrance.
Head Hydrate was created to condition and restore balance to the skin. The product can be used as a daily moisturizer, or after a shave to soothe the skin. Active ingredients include Bioecolia, matcha green tea and Dragon's Blood, all meant to help maintain a healthy scalp microbiome.