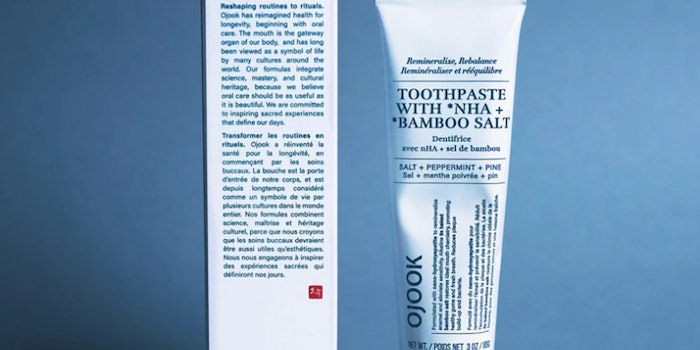 Ojook oral care collection is said to reverse damage by remineralizing lost tooth enamel and restore the ideal pH balance of your mouth with nano-hydroxyapatite (nHA) and jukyeom.
Previously: Brüush Nets $6.5M Series A Financing from Gravitas Securities
According to Ojook, nHA is a non-toxic fluoride alternative that remineralizes enamel, prevents cavities, brightens teeth, and alleviates sensitivity.

Jukyeom, on the other hand, is an alkaline salt baked nine times in bamboo at more than 1,700°C. It is used to treat bodily inflammation and canker sores. 
Ojook's toothpaste is vegan, cruelty-free and its packaging does not include plastic. 
Founder Youn Chang, who formerly worked with Glossier and Apple, said: "Our products will not end up in landfills. They are thoughtfully made for the body, mind and nature with inspiration from generational knowledge without compromising efficacy or our values."