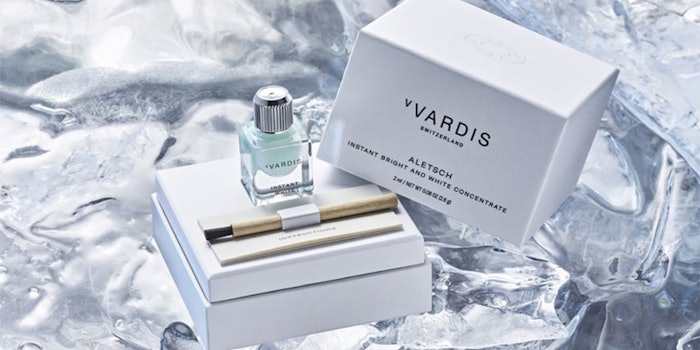 vVardis is a new premium oral care brand founded by Golnar and Haleh Abivardi, founders of dental group Swiss Smile.
Previously: Better & Better Oral Care Brand Launches
vVardis features WX Formula, which is an FDA-approved, polyvalent biomimicking hydrogel that whitens safely and protects the teeth. In combination with fluoride, WX Formula takes care of enamel naturally, boosting fluoride's power.
WX also protects teeth against stains, and tones and freshens the oral ecosystem.
The products can be used daily, even on sensitive teeth, composite crowns and fillings. 
The products include:
vVardis Aletsch: Aletsch is a brush-on gel serum with the highest concentration of WX Formula to ensure teeth are whiter, smoother and glossier from the first application. 
vVardis Edelweiss: Edelweiss is a fluoride toothpaste that protects against cavities and whitens the teeth. The product comprises WX Formula and fluoride to whiten, cleanse and protect enamel against cavities and stains. vVardis Edelweiss also features Alpenrose, an antibacterial humectant, and high-antioxidant Edelweiss extract and mint for long-lasting freshness.
vVardis Weissbad: Weissbad is a fluoride mouthwash featuring WX Formula to immediately brighten the teeth and protect against cavities and stains while keeping the breath fresh for hours.
vVardis Rheinholz: Rheinholz is a BPA-free toothbrush crafted out of sustainably cultivated FSC Certified Swiss beechwood. It is designed to prevent over-scrubbing and excess pressure from harsh brushing. Rheinholz is infused with anti-bacterial carbon particles and includes a row of tapered bristles to clean teeth more thoroughly and gently than conventional toothbrushes, per the brand.
All products are vegan and sustainably produced in Switzerland.
Dr. med. dent. Golnar Abivardi said: "Our goal has always been to motivate people to take care of their oral health."
Haleh Abivardi said: "As doctors, dentists, researchers and mothers, we know that when your mouth is healthy, your body follows. We wanted to develop products using the safest and best quality ingredients that are both good for your health and leave your mouth completely protected."