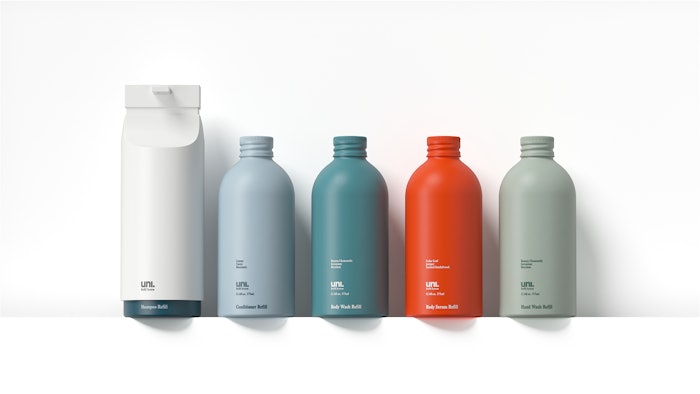 Uni has debuted its closed-loop system for body care and announced $4 million in seed funding. Uni's seed round was led by SoundWaves, an ESG investment vehicle dedicated to sustainable supply chain management.
The brand features a high-performance unisex line of hand soap, hair care and body care, formulated with reef-safe ingredients.
Each of the 100% recycled aluminum bottles in the Uni Refill System twist into a reusable dispenser. As part of the closed-loop program, Uni takes back the aluminum refills to be washed and refilled via carbon neutral shipping.
The Uni body care line includes:
Exfoliating Hand Wash
Skin Shield Body Wash
24 Hour Body Serum
Hydrating Shampoo
Hydrating Conditioner
All five formulas include Uni Marine Complex, Uni's combination of marine actives and ingredients with a 24-hour hydrating effect. This complex is paired with Australian super plants to deliver antioxidants and vitamins for all skin and hair types.
All marine extracts are sourced ethically from environmentally sustainable resources, formulated exclusively with skin and planet-safe ingredients, along with natural scents.
Uni has partnered with Coral Gardeners to contribute 1% of online sales to coral restoration projects that actively repair the damage to coral reefs caused by the personal care industry. 
Alexandra Keating, founder and CEO of Uni, said, "Uni was designed to eradicate future production of toxins and plastic waste that enter the ocean through our products. That meant looking at every aspect from upcycled ingredients to a new innovative system of reuse. But for Uni to make an impact, we had to make a product that people wanted, and it was clear to me that the opportunity was in performance based products and innovative design."
Marc Atlan, Uni's creative director, said, "Uni's design is sustainable but doesn't compromise on elegance. It is unique, minimal and timeless."
Ashton Kutcher of SoundWaves, said, "The hospitality industry is far too reliant on single-use packaging. The shift to reusable, refillable, and ocean-safe solutions should be adopted by every player in the industry. Uni has created a sustainable offering that's better for you and the environment."