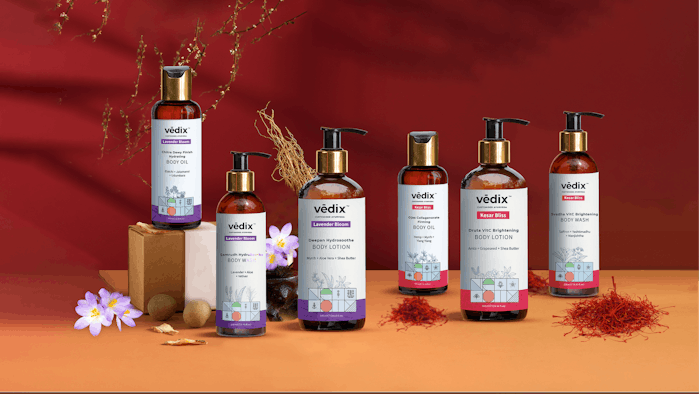 Vedix has launched a range of body care products, including body oil, scrub, body wash and body lotion, that are inspired by traditional Ayurveda practices. The new line is designed to complement Vedix's hair and skin care products.
Related: Plant Apothecary Revamps Its Body Wash Range
Vedix's products are customized based on consumer-provided info, including age, weight, beauty goals, gender, skin concerns and more. The body washes, body lotions and body oils in Vedix's body care range are available in either a Lavender Bloom or Kesar Bliss fragrance. Lavender Bloom is a blend of cold-pressed herbal oils, including pure elaichi, jatamnsi, udumbar, vata, peepal, sesame and coconut oil. Kesar Bliss is infused with hemp, ylang ylang, myrrh, sesame oil, coconut oil, vitamin E and lauric acid.
Vedix body lotions are infused with brahmi, almond, shallaki, kesar, lodhra and licorice. The body wash contains Manjishtha, Licorice and Kesar.
Jatin Gujrati, business head, Vedix, said, "Face and hair care are often prioritized, owing to the attention they get. But having an effective body care routine is often neglected. Having a healthy body care routine helps the skin remain firm and ageless. While the skin remains immune to diseases, pollution and environmental stress, indulgent self-care fortifies mental health. We believe a complete body care ritual will bring the best of Ayurveda benefits to millions of our customers."