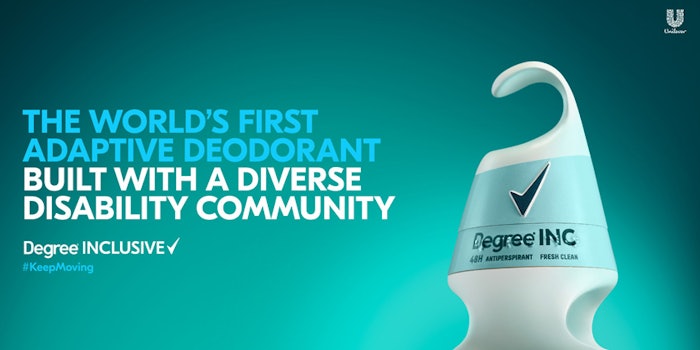 Degree Deodorant has launched Degree Inclusive, a deodorant for people with visual impairment and upper limb motor disabilities.
Previously: [video] Tactile Packaging for Beauty: Inclusive Design
The brand partnered with a team of design experts from Wunderman Thompson, occupational therapists, engineers, consultants and people living with disabilities across the globe to create a prototype.
Degree Inclusive features:
A hooked design for one-handed usage
Magnetic closures that make it easier to take the cap off and put it back on for users with limited grip and/or vision impairment
Enhanced grip placement for easier application for users with limited grip or no arms
A braille label with instructions for users with vision impairment
A larger roll-on applicator to reach more surface area per swipe
In partnership with The Chicago Lighthouse, Open Style Lab and Muscular Dystrophy Association, Degree has invited 200 people with disabilities in the United States to trial the prototype design and share their feedback with Degree.
Kathryn Swallow, global Degree brand vice president, said: "As a brand that's committed to inspiring confidence in everyone to move more, Degree believes no one should be held back from experiencing the transformative benefits of movement. More than 60 million people in the US live with a disability, yet products and experiences are still not designed with this community in mind. With Degree Inclusive we hope to inspire bold action across the industry to ensure that people with disabilities have an equal playing field."
Aline Santos Farhat, EVP of global marketing and chief diversity and inclusion officer at Unilever, said: "Breaking stereotypes unleashes creativity and drives growth. Degree Inclusive challenges what a deodorant product should be. It's a breakthrough accessible design that genuinely serves the needs of people with visual impairment and upper limb motor disabilities."