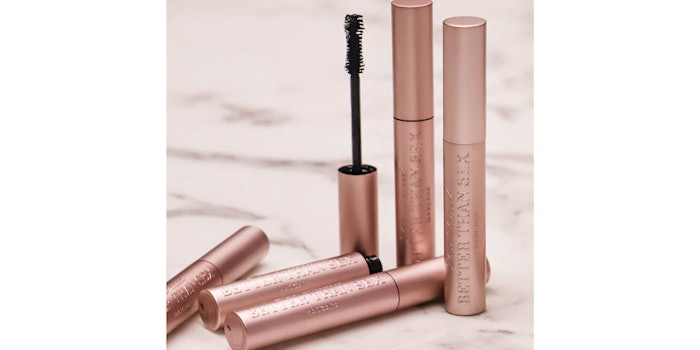 When it comes to iconic beauty products, few hold as important a place in the heart of consumers as those for eyelashes and eyebrows. Consumers across all age ranges shop for these products on a routine basis, are attuned to the trends and techniques guiding the category, and consider items to preen and perfect their lashes and brows an important part of their regular, daily beauty routine.
From how she likes her brows shaped to what lash look she thinks has had its moment and is now out, consumers told us everything they were loving (and not loving) about products, looks, and trends for lashes and brows, as well as where they are shopping, how much they are spending, and how often.
In the past 12 months, 66% of consumers ages 18–54+ have purchased products or services for both their lashes and their brows, with mascara and brow pencils being the most often purchased product within the category.
To get a feel for this and other vitally important data about this sub-section of the overall color cosmetics sector, The Benchmarking Company chatted with more than 7,000 beauty consumers in April 2018 about all things lash and brow, and the results were pretty colorful. Respondent answers were reported as a whole, and by age generation.
Top Lash Products & Looks
Lash products have always been a popular staple with beauty consumers, so it will come no surprise that across all age spectrums, they still are popular (T-1). Consumers are buying and using products to thicken, lengthen, volumize, separate, waterproof and otherwise enhance their eyelashes in similar numbers.
In the past 12 months, mascara, eye makeup remover and lash curlers were the top three products for lashes purchased by consumers of all ages; for brows, brow pencils, tweezers and brow brushes were the top three items purchased. For certain items like mascara, mascara primer and eye makeup remover, purchase patterns are similar amongst all consumers.
In terms of the top "look" consumers are seeking from lash products, volume is hands down the #1 benefit, followed by length, waterproofing, lash separation, long wear and dramatic, dark lashes. For brows, consumers want a good color match, the product to be long wearing, a comfortable texture/feel (cream, powder, etc.), waterproof and good color intensity.
The False Lash Boom
It's interesting to note that Gen Z are buying the most false eyelashes of all age groups (66%), with millennials not far behind at 50%.
While age probably does account for some of this phenomenon in the two younger demographics, it's also worth noting that these women are among the first generation to have false lashes presented as part of a normal, everyday beauty routine by the beauty influencers and YouTube stars that are setting the trends that these consumers are following.
By contrast, Gen X and boomers matured into their beauty routines at a time when false eyelashes were not always easy to find, cumbersome to apply and generally considered special occasion items.
For false lashes, shape of the actual lash itself, as well as ease of application were mentioned as important benefits. We already know that Gen Z are using these lash products more frequently than other generations, and 53% have applied false eyelashes or lash extensions to themselves in the past year.
Consumers have their frustrations with using these tricky yet fun false lash products (T-2). Overwhelmingly, application is the biggest challenge, followed by how long the lashes stay on once applied. Notably, even though lash products are, by and large, one of the more affordable segments in the overall eye product category, some consumers believe they are still too expensive.
Brows Becoming an At-home Category
In the past 12 months, women have done a lot of things to their eyebrows: waxing, plucking, shaping, and trimming (T-3, T-4). Interestingly, services that women have traditionally turned to a professional for, such as brow waxing, are starting to become an at-home activity, with one-quarter of consumers reporting they waxed their own brows in the past 12 months.
Also interesting is consumers' slow adoption of microblading and brow tattooing. These are two up and coming trends for brows that offer the latest and greatest technique for shaping, but perhaps consumers aren't quite yet convinced?
Of note is the number of consumers who do not get any professional brow services at all. Overall, 40% consumers eschew having a pro help them with their brows. Across all generations, baby boomers are least likely to see a pro: 57% of Boomers say "no thanks" to professional brow help and, instead, care for them on their own.
Lashes & Brows: Why Go Pro?
For lashes, the number one reason consumers opted for a professional lash treatment was to look more beautiful (T-5)! Fifty-three percent of consumers of all ages report this was their number one reason for first visiting a pro.
Other reasons include: 50% loved the way it looked on someone else; 30% said the services were recommended by a friend; and 22% had a coupon or other deal for the service, which was an inducement to trial.
Given how important lashes are to Gen Z, you might expect this demographic to go more frequently for professional lash services compared to baby boomers. Surprisingly, the difference is minimal (T-6): 18% of Gen Z go for pro lash services every two weeks, while 16% of baby boomers do the same. For lash consumers overall, 45% of women are going every one to three months for professional lash services, and only 14% report going every two weeks.
For brow services, the top reason consumers chose to visit a pro was the same as for lashes: she just wanted to feel more beautiful (T-7).
Purchase Habits
Except for ultra-luxury brands and professional services, lash and brow products tend to be among the more affordable beauty items, with high-quality, swoon-worthy mascaras, brow powders and waxes, and false eyelashes available for less than $10. Accordingly, while the dollar amount consumers are spending might not be incredibly high (T-8, T-9), an average of $50 a year could be the mark of consistent, repeat purchase.
Top Brands
Consumers told us their favorite lash and brow brands are a mix of old and new, mass and prestige, with the big winners being Too Faced and Maybelline for lashes, and Anastasia Beverly Hills for brows, across all demographics.
Top Retailers
These consumers are seeking out these brands at superstores and specialty beauty retailers (and their websites), with 71% and 65% of consumers, respectively, shopping for their favorite lash and brow products from these locations (T-10).
Of all generations, baby boomers are shopping the least for lash and brow products at any retailer, and Gen Z and millennials the most. They are less likely to shop for lash or brow products on home shopping networks, at warehouse stores like Costco or Sam's Club, or salons/spas.
Top Influencers
No surprises here—55% of consumers are getting their inspiration for lash looks or brow products from video sites such YouTube, where they can watch and learn application techniques, while 44% get their inspiration from beauty specialty retailers and their websites, as well as other social media sites. About 40% turn to beauty magazines.
The least likely influencer to inspire consumers to try a lash or brow product? Celebrities. Only one in five consumers cite celebrity influence as a prime motivator.
Trending Looks
Given that they're dialed into online video influencers, who are known to try amazingly creative and fun looks and trends, it's no wonder that consumers have a definitive opinion on lash and brow looks that are in—and out (T-11, T-12, T-13).
When it comes to the most appealing brow look, generational lines clearly seem to set the trends. For Gen Z and millennial consumers, a thicker arched brow, sometimes referred to as the "boy brow," is the most appealing look.
The reverse is true for baby boomers. While boomers also prefer a thicker brow, they want theirs to be thickly rounded vs. one that is arched.
Gen X? Her preference is for thickly rounded brows as well, but not by much: 34% say this is their preferred look, while 28% like thickly arched.
For all consumers, the look of a highly arched brow is yesterday's news—boy brows are what's winning now.
Denise Herich is co-founder and managing partner at The Benchmarking Company (www.benchmarkingcompany.com), which provides marketing and strategy professionals in the beauty and personal care industries with need-to-know information about its customers and prospects through custom consumer research studies, focus groups, its annual PinkReport and consumer beauty product testing for marketing claims.