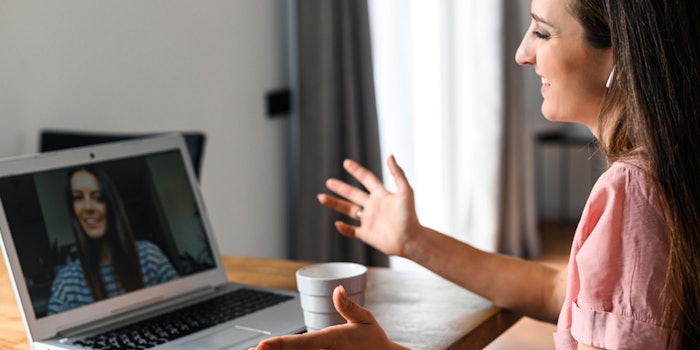 Being on Zoom or other types of video conference all day has impacted our culture in many ways, especially how we see ourselves. The all-day Zoom factor has made us all hyper aware of how we look, which also impacts our self-image, what we want and what we will do about it, and how we present and how we shop. 
Previously: Bringing the Beauty Brand Experience Home
With people more conscious of their faces because they are looking at them for a good chunk of the day, at-home alternatives to problems such as crow's feet, sagging jaw lines and uneven skin tone are on the rise. 
Products such as SilcSkin, transparent silicone pads that treat wrinkles like scars and heals them while you sleep, were sold out on Amazon for long periods of time. These pads are considered a great alternative to Botox and fillers that people are missing out on and a complement to creams and ingestible collagen to smooth out wrinkles.
Christie Kerner, CEO and founder of My Little Mascara Club, notes, "Many women used the zoom experience to shake up their routine, reducing their dependence on products that they felt could be damaging. Many took the time to explore cleaner beauty options."  
Zoom Factor vs Selfie-Factor
"At our desk on Zoom you don't typically have the benefit of lovely lighting so, makeup choices tend to be bigger and bolder, especially focused on the eyes and lips," Kerner says.
Since Zoom is now used for business, as well as personal communication, people tend to be more conscious about their personal backdrops, their skin preferences and outlook.
Zehra Sun, CEO and founder of MDSU, says, "I have many customers—even male CEOs—that come to me and seek a more 'natural look.' They want better skin with less discoloration and they also have the desire to tighten skin. Before Zoom, they were less conscious about it. However, because you constantly have to see your face on Zoom, they are now more detailed about their skin routine." 
Zoom has totally changed the way beauty executives prepare for meetings.  
Alyson Barrio, director of national accounts at CITY Beauty says, "I am probably 100 feet from my vanity, so I can take quick steps to prep, usually 10 minutes before my meetings. I start by hydrating from within, putting on InvisiCrepe from CITY Beauty on my décolleté and neck. Right before the call, I will apply lipstick, too, and do some wrinkle erasing with one drop of Rewind from Beverly Hills MD. It's a target product to smooth fine lines and wrinkles from micro expressions. I make sure to exfoliate in the morning, and I use Beverly Hills MD skin revitalizing elixir. Dermal repair supplements are good for helping beauty from within."
Barrio continues, "We're already seeing a lift in sales with lips. Buyers are going crazy with lips. Sephora and QVC are confident that it will keep growing, and I think cheek color will be next. Some things I keep in mind are making sure I look healthy and clear. We all went through a tough time. When you jump on Zoom, keep your hands on your hips and a smile on your lips. When the Zoom camera is on, we want to be our best selves. Having a camera on you helps you step into a glamorous time. You have the opportunity to embrace perception. When you're taking a selfie, you aren't moving. But, when you're on Zoom, you are, and your movement is being used more than a frozen image." 
"People want to look natural for everyday Zoom calls, but they can also get more into artistry with their eyebrows or ombre looks," says Sun.  
People are also doing more DIY nails including acrylic. 
"At City Beauty, all of our products are alternatives to professional esthetics," says Barrio. "People are getting results with products at home versus esthetic treatments including injections. If you use the right skincare products, you shouldn't have to supplement injectables or services. Body care has picked up during the pandemic, and people had to perform spa rituals at home. Now, they are more confident in their ability. It's the biggest bang for your buck."
Where Smiles Matter
For the most part, people were free to be maskless on Zoom, bringing more attention than ever to our pearly whites. They are hyper aware of how their teeth look when they speak, sparking an interest in cosmetic treatments and a rush for better oral care at home.
They may have had to miss their cleanings, but they are certainly investing in power tools for sharper smiles. SoniClean has started an invitation-only, toothbrush concierge subscription service tailored for the full VIP treatment; a new collection of personalized toothbrushes and accessories like never before. 
Hair Returns to its Natural State
Sales of Naturally Africa, a vegan hair care line created by women in Africa, was introduced during COVID and took off as more women started wearing their hair more naturally over Zoom. In many cases, women were washing their hair less and saw their frizz or lack of it on their zoom screens.  
Self-Care & Pampering
People are also looking for products that will clear their skin due to the increase of mask breakouts. Sun believes that products like serums or pimple stickers are great resources as they soothe and heal irritated spots. 
Self-care and pampering continue to trend and impact sales. The sales for MDSUN were impacted during COVID as people stayed at home and bought more. 
"We love self-care and pampering," says Sun. "MDSUN is a luxurious skin care brand that prides itself on only the highest quality ingredients. We love those that not only take care of their skin but everything else. For those looking for a skin care product, I would recommend our Smoother. Not only does this Smoother work well with all skin types, but there are several benefits that help reduce irritated skin and rosacea. This irritated skin could be most common through mask breakouts. As MDSUN only provides the best ingredients, the Smoother essentially 'soothes' redness and inflammation."
In addition, Sun mentions mixing the hyaluronic acid with the wrinkle smoother: "Firstly, hyaluronic acid reduces redness and wrinkles. However, when combing the Wrinkle Smoother, these two products truly make a difference on your skin. The hyaluronic acid minimizes breakouts and wrinkles, while the Wrinkle Soothener will essentially hydrate and repair collagen synthesis. The Wrinkle Smoother contains Synthetic Human Stem Cells which have an incredible impact on the skin and reduce fine lines. These two really help restore the skin."
Zoom has affected our culture, our outlook and how we research and buy products. There are so many new ways to boost your beauty that we should all be looking better.