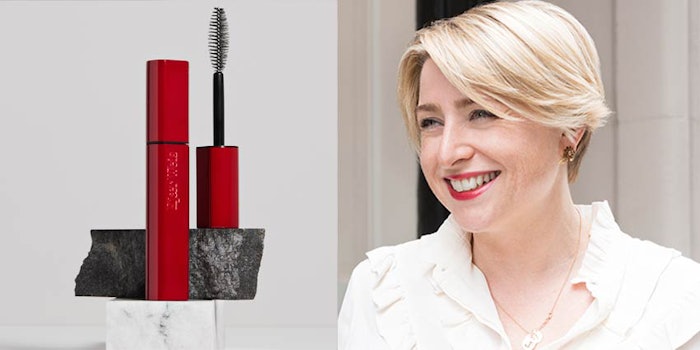 U.S. prestige makeup sales in Q2 2021 totaled $1.7 billion, a 71% year-over-year gain. Yet, despite the category's rebound, color is reemerging in a changed world. To illustrate one instance of the sector's evolution, on September 8, 2021, Kjaer Weis will launch its Im-Possible Mascara ($32; refills, $26), touted as the first certified organic volumizing mascara.
The launch is designed to dramatically volumize, lengthen and lifts lashes. It also signals the brand's push into key product categories. We recently spoke with Gillian Gorman Round, CEO of Kjaer Weis, about the launch, as well as where the brand is headed following Waldencast Ventures' acquisition of a majority stake in the company.
Disrupting the Mascara Category
Gorman Round notes that the Im-Possible Mascara's ingredients are certified organic and available from the brand's network of small farmers and suppliers. The formulation includes beeswax, carnauba wax and acacia gum for a creamy, no-clump texture.
Fatty acid-rich raspberry fruit water, meanwhile, repairs and conditions lashes, while sunflower seed oil, which features high levels of vitamin E, antioxidants and oleic acid, helps stop breakage and stimulates lash growth. Marula oil further nourishes and protects the lashes with vitamin C and E, while rendering the formula easy to remove.
 The refillable packaging, meanwhile, is designed both for sustainability and function. The brush, comprising 100% recycled nylon bristles, features a curved side for buildable volume and a flat side for length, definition and detail.
The body of the packaging is made from 50% recycled plastic and infinitely recyclable aluminum. The outer aluminum shell is coated in a UV lacquer coating that can reportedly last through at least 100 refills. Meanwhile, the secondary packaging comprises recyclable boxes made of recycled pulp.
The brand has also engaged in paid advertising for the first time, while rolling out products in "classic beauty territories."
From the product category to the formulation credentials to the sustainable packaging, the mascara points to Kjaer Weis' larger strategy for the brand. This strategy is being led by Gorman Round, who took the reins of the brand in December 2020 amid a time of rapid change in beauty. The leadership transition allowed the brand's namesake to put more focus on her role as creative director.
Gorman Round notes that Kjaer Weis is a brand that offers luxury and high performance, in addition to clean and sustainable credentials. As the CEO points out, many mascaras have natural or organic ingredients, but most are not organic certified. By going the extra step, the brand aims to compete and gain market share in a significant beauty category.
With consumers increasingly concerned with their purchases and environmental footprints, Gorman Round is focused on expanding Kjaer Weis' horizons while staying true to its foundational principles.
The brand has also engaged in paid advertising for the first time, while rolling out products in "classic beauty territories." In assessing where to focus, Gorman Round asks, "what don't we have that we should, where do we see high consumption, what can we do better than [the existing market]?"
Any innovation must be thoughtful, she adds. Is it new? Thoughtful? Different? Is there a market for it? It also must jump the hurdles of organic certification, sustainability, high performance and ability to be "beautifully flattering."
Gorman Round says that Kjaer Weis is exploring more under-penetrated classic makeup categories where the brand isn't currently active, while also leveraging its skin-friendly to find an entry point into skin care, expanding on the success of The Beautiful Oil.  
The brand's supply chain is "solid," says Gorman Round. Its products are produced in Italy and France and its ingredient supply chains benefit from relatively low competition due to their certified organic status. Freight issues and labor tend to be the bigger challenges, the executive points out.
Looking ahead, Gorman Round expects some supply chain disruption, including freight price gouging, in the first quarter of 2022 but anticipates this will gradually settle down.
Shifting Retail

Patterns
The brand retails at Bluemercury, The Detox Market, Credo, Nordstrom, Net-a-Porter, Violet Grey and various other independent outlets, as well as via its own e-commerce site. Gorman Round says that the brand's site sales have grown 150% amid the pandemic, with 30% of shoppers returning customers.
This repurchase rate is driven by the brand's refillable concepts, good-for-you ingredients, luxury offerings and the trust it has built with shoppers.
The owned e-commerce site sales gain has slid the wholesale/direct-to-consumer ratio 20%, from 70/30 pre-pandemic to 50/50 mid-pandemic. Eighty percent of all sales are in North America. The brand plans to eventually expand to Europe and the United Kingdom.
When asked about the beauty boom in China, Gorman Round expresses a belief that the market has experienced a bit of a "gold rush." Some brands understood how to adapt to the local marketing tactics, while others misunderstood that success in the West wouldn't necessarily translate to strength with Chinese consumers. While Kjaer Weis has no current plans for China, Gorman Round says there is quite a bit of inbound traffic from overseas shoppers.
Gorman Round points out that beauty is cyclical and that makeup remains relatable, even if some consumers are just on Zoom calls.
Meanwhile, retailer online sales have declined somewhat, Gorman Round says, as consumers have preferred to go back into stores. In-store, shoppers want a clean, well-serviced environment with experts who can talk to them about the products.
The brick-and-mortar retailers that succeed will be those that have these capabilities, says the executive. To illustrate the importance of expertise, Kjaer Weis didn't lay off its pro in-store team amid the pandemic but rather pivoted them to online consultations.
Looking forward, the brand is anticipating some early holiday shopping in 2021, particularly given challenges around supply chain. At the same time, the brand is navigating the Apple ios14 update, which has impacted how brands can target consumers and assess the impact of marketing campaigns.
Color's Confidence is

Back
Gorman Round explains that while the color cosmetic sector has been challenged by mask mandates, lockdowns and other elements of the pandemic era, the brand has managed to buck some elements of the trend.
For instance, Kjaer Weis' Nude, Naturally Lipstick has been a top seller, driving up category sales by 40%. Foundations have also performed well, reflecting general market interest highlighted by recent NPD sales data.
Gorman Round points out that beauty is cyclical and that makeup remains relatable, even if some consumers are just on Zoom calls.
What's next for the brand? Gorman Round teases the launch of the Red Edit, featuring eight reformulated lipstick shades with skin-friendly ingredients. As she notes, confidence is coming back to color.