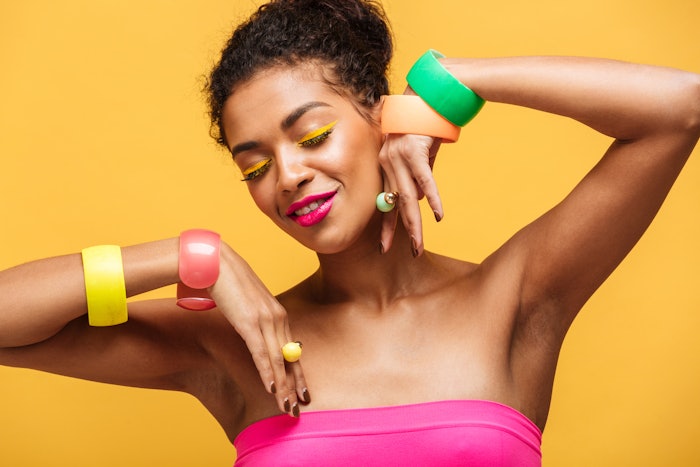 Global Cosmetic Industry recently spoke with industry insiders to understand emerging color cosmetics ingredient trends and recent launches into the beauty space.
Pastel & Bright Hues
Kathi Edwards, senior sales manager-cosmetics/personal care, DayGlo, says, "We're seeing bright, fun, cosmic colors trending, like in the pictured bath bomb(s) (and we're not just saying this because we are DayGlo, our resident Tik Tok experts informed us of this). With those colors, people still want natural ingredients and our Elara pigment pairs perfectly with natural ingredients. One of the new natural ingredients that we have been using is meadowfoam seed oil as a dispersing agent. Meadowfoam seed oil is known to have great stability with oxidation and can be widely used in a variety of cosmetics. There can be a variety of benefits to a formulation when switching a dispersing agent. In addition to switching dispersing agents, adding a variety of colorants can also be beneficial. Elara by DayGlo Color Corp. is a great colorant that not only disperses easily in oil, water, and solvent formulations, but also is great to enhance the color of formulations. Elara works well with conventional colorants and helps to give a brighter end appearance."
Michelle Rosa, senior chemist, R&D, Sandream Specialities, says, "Pastel hues are trending, as seen in our Spring-Summer 2023 Trends, 'Blurred Lines.' Iridescent tones and subtle tints capture radiance on the eyes and face. Pigmentation is light and minimal, with soft interference color travel pearls in the spotlight. Our Synmira Ice VRO987, combined with Majestic Plum and a touch of Diamond Dust Gold, creates a beautiful, lavender shade fitting for this trend. 'Sip of Sunshine' is a color story also included in our Spring-Summer 2023 Trends, which features bright, vibrant hues. This uplifting trend is filled with creativity and diversity to stimulate the senses. Smaller particles, full coverage, joyful pearls are featured in a semi matte to slight sheen finish to capture attention. Our Majestic Blue Grape, Majestic Coconut and superfine Smokey Vintage Denim Blue emit a lovely sky-blue shade that radiates positivity. Emphasis is on the entire Majestic line to fulfill this movement."
For the full article, check out Global Cosmetic Industry's May 2022 digital magazine.