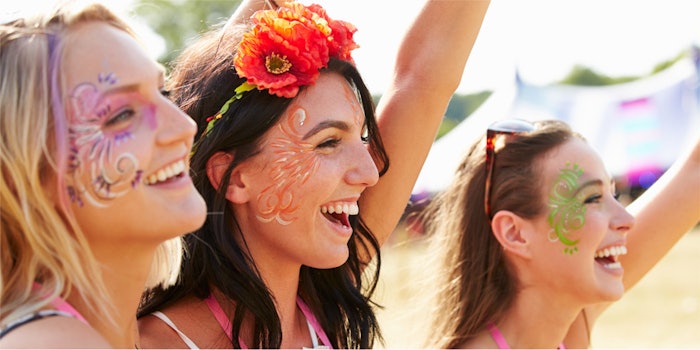 During the summer months, all eyes are on the music festival scene for the latest trends in both fashion and beauty. 
In fact, according to The Kline Group, many beauty marketers use the annual music festival season as an opportunity to launch new products specifically for festival attendees. Glittery makeup in bold, bright colors is one trend the festival crowd seems to be drawn to in 2018.
Too Faced's Life is a Festival Eye Shadow Palette and Festival Refresh Spray—launched in February 2018—are two products that fit this trend. Kline's digital tracking service Amalgam found that the Festival Eye Shadow Palette ranked as the 387th eyeshadow palette in February and moved up 134 spots to become the 253rd best-selling by April. Likewise, the Festival Refresh Spray, a setting spray that reportedly "incorporates an illuminating element," moved 19 spots from the 296th best-selling face primer to the 277th in April. 
Another festival-themed collection, BH Cosmetic's Weekend Festival 8-piece collection, was launched in April 2018. Despite being sold exclusively on ulta.com and bhcosmetics.com, the Weekend Festival 20 Color Shadow Palette was the 360th best-selling eyeshadow palette in April. 
For more information, please visit www.klinegroup.com