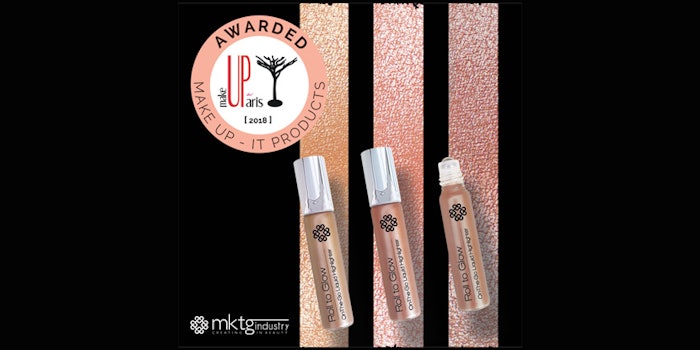 For the fourth time in a row, Mktg Industry has won the Innovation Tree Award at MakeUp In Paris 2018.
The award was given to Mktg Industry's Roll to Glow, an on-the-go highlighter that is applied to the skin via rollerball. According to the company, Roll to Glow can be applied to both the face and body, including cheekbones, eyes, nose, lips, cupid's bow, neck and collarbones.
The highlighter contains Metal Drops, a formula meant to provide an illuminating, "metal" effect on the skin. The lightweight oil emulsion contains pearls that form a reflective film with a metallic finish as well as vitamin E. The product is reportedly natural, vegan and cruelty-free.
Stefano Focolari, CEO and managing director of Mktg Industry, said, "This is an important recognition for us and we are honoured to be awarded at MakeUp in Paris once again with
one of our products. Our team developed Roll To Glow after an accurate research of the latest and upcoming trends in beauty and makeup, mixing together Natural and Fashion
concepts."