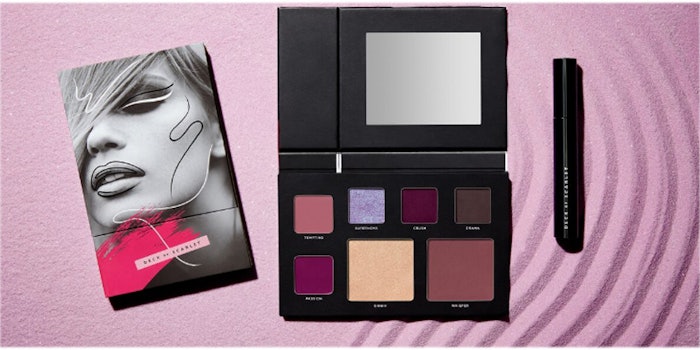 Deck of Scarlet has partnered with beauty influencer Belle Jordan on an amethyst-themed palette featuring products for eyes, cheeks and lips. 
The palette, Edition #9 Makeup Palette, features three eyeshadow colors, two cheek colors and two lip colors, all in purple and nude tones. The palette, retailing for $44.95, is also accompanied by mascara.
 Eye products include:
Supernova: An amethyst shadow with silver pearl effect; 
Crush: A plum shadow with a blendable matte finish;
Drama: A grey-toned brown shadow with a soft matte finish; and
Sexy AF Mascara in Blackout: A blackest-black mascara that provides length, definition and volume to the lashes.
Cheek products include:
Shhhh: Apowder highlighter with a champagne-golden hue; and
Whisper: A dusty rose blush with a hint of golden pearl, featuring a soft matte finish.
Lips products:
Tempting: A full-coverage, cool-toned pink lip paint with a creamy finish; and
Passion: A high-impact orchid lip paint with a full-coverage, creamy finish.