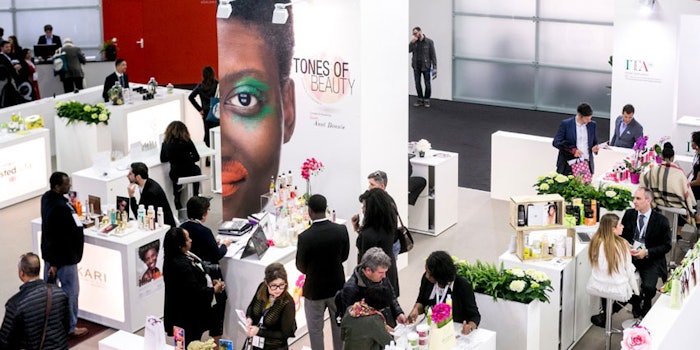 March 20, 2017 marked the end of the 50th edition of Cosmoprof Worldwide Bologna.
The event's organizers broke down some of the figures that proved its success:
More than 250,000 visitors from 150 countries attended the event
The number of foreign professionals increased by 16% from 2016's event
The event hosted 2,677 exhibiting companies from 69 countries
The event included 29 country pavilions: Australia, Belgium, Brazil, Bulgaria, California, China, South Korea, France, Germany, Great Britain, Greece, Israel, Indonesia, Morocco, Netherlands, Pakistan, Peru, Poland, Spain, United States, Taiwan, Turkey, Hungary and, for the first time, Argentina, Chile, Japan, Latvia and the United Arab Emirates / Dubai.
9,000 meetings were scheduled during the event between buyers, distributors and companies on the match-making software You Meet
Cosmoprime, held March 16-19, had 151 exhibitors with 81% of them from foreign countries
Cosmoprime also included:
The Extraordinary Gallery: Where the latest trends were presented
Tones of Beauty: Where growing segments such as multi-ethnic beauty were represented
CosmoTalks: Round tables that gave insights on the world of retail and the future of the beauty market
The Perfume Factory: Gave insights into the production process of fragrance 
Fabio Rossello, president of Cosmetica Italia, personal care association, said, "The cosmetics industry is cyclical, as demonstrated by the data in 2016 evidencing the value of the total turnover of 10.5 billion euros [a 5% increase]. The positive trend registered by economic surveys has been confirmed in a general climate of optimism: companies have welcomed the visit of the many Italian and foreign operators and the quality of contacts. The full calendar of conferences has been noted for careful attention to new trends, market scenarios and consumer attitude."